Even after winning 10 races in the 2014 Formula1 Season, Hamilton's chance of winning the 2014 Drivers' Championship were 50:50 as he arrived at the Yas Marina Circuit for the 2014 Abu Dhabi Grand Prix.
The threat of Rosberg snatching the title due to the dubious double points system always loomed large and not only did he overcome a charging Rosberg, but also the fears of mechanical issues as he finally clinched his second Drivers' World Championship. He won his first in 2008. And luckily for Hamilton, Rosberg was the one who suffered mechanical issues in the title-deciding race.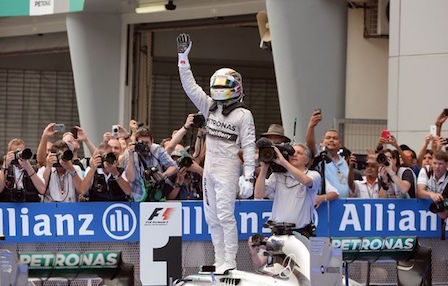 It was evident from pre-season testing that the Mercedes W05 would be the car to beat and that the title fight would be between the two Mercedes drivers. While Rosberg did well to delay Hamilton's win till the final race of the season, I do wonder why would a driver as talented as Hamilton leave his wins till the last race of the season. He lost the title to Raikkonen in 2007 (Brazil) and only just won it from Massa in 2008 (Brazil). Although I am glad he didn't do a Vettel a la 2013.
And while I congratulate Lewis Hamilton for his much deserved victory, I would also like to thank him for winning the title. Had Rosberg won the title due to the farcical double points system, the sport's credibility would've been under much questioning. Kudos!