Formula1 action resumed today (quite literally!) and it was back to its unpredictable best. While FP1 and FP2 were a near wash-out, FP3 did indicate that the Saubers would be mighty quick in Spa. While Alonso and Raikkonen did show flashes of speed, there was no way one could predict the pole-sitter for this race. And such has been the story at most races of the 2012 Formula1 Season.
My thoughts on the 2012 Belgian GP Qualifying:
Q3:
Jenson Button clinched a surprise pole position for Mclaren in this session. It was his first with Mclaren and his first in Spa. Button's last pole was in 2009, the year he was crowned Champion.
Button's pace was stunning all through the session though he did complain of understeer early on. However, his pace in Q2 and Q3 was unmatched and this also leaves him with an extra set of tyres for tomorrow's race.
Hamilton's post-race tweet indicated that the new rear wing assembly that Button used in this session probably made the difference in their speed and performance. This was only the second time this season that Button qualified ahead of Hamilton (8th) and the time difference was nearly 8 tenths!
And it was not just Button's pole that surprised everyone, Kobayashi (2nd) and Maldonado (3rd) too sprung a surprise! This is Kobayashi's first front-row starting position. The difference between the two drivers was only five hundredth of a second!
Raikkonen (4th) and Perez (5th) ensured that Button was miles ahead of the other front runners Alonso (6th) and Webber (7th). While Alonso and Ferrari were never in the contention for pole, this result does bode well for Alonso's current championship positions. His nearest rivals are all starting behind him!
Grosjean and Paul Di Resta clinched 9th and 10th respectively.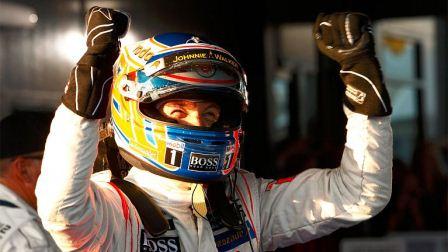 Q2:
Vettel, Schumacher and Massa were the surprise exits from this session, whereas Di Resta, Perez, Maldonado and Kobayashi were the surprise graduates into Q3.
It wasn't the best day for reigning World Champion Vettel who missed the Q3 cut by 0.012 sec, was two tenths off his team-mate and was slapped a Euro 10,000 fee for an ill-advised practice start during this session.
Mercedes AMG had a bad qualifying session too as Schumacher could only manage a P13, behind the Sahara Force India of Hulkenberg (12th).
And as always, Q2 was one of the quickest sessions with P3 to P10 being separated by only 3 tenths of a second! Commendable given the long nature of the Spa Francorchamps!
Vergne (15th) managed to qualify ahead of Ricciardo (16th) by two tenths whereas Senna was languishing in 17th. Senna's Q2 lap was over a second slower than Maldonado's!
The other Brazilian and Ferrari driver, Felipe Massa was 14th, over a second slower than Alonso.
Will the Brazilians be replaced next season? (Million $$ question!)
Q1:
Rosberg was the fall guy in this session after his FP3 was limited due to a gearbox failure. He will start 23rd after a 5 place grid penalty. And Rosberg's fall meant that Grosjean was lucky to get into Q2 by only 0.06 of a second!
If one was to discard Rosberg's laptime due to lack of setup and track time, the Caterham cars were nearly 2 seconds slower than the Williams of Senna. Kovalainen was quicker than Petrov even though he didn't a fully operational DRS wing!
As for Marussia, they will take heart from their Glock's laptime which was only 4 tenths off Petrov's. However, Pic was beaten by the HRT of de la Rosa by 4 tenths as well.
And it was a session to forget for Karthikeyan whose qualifying lap was nearly 2 seconds slower than his team-mate! (Read more: Has TATA Made The Wrong Decision With HRT)
Rumour has that Mercedes debuted a triple DRS system in Spa to help their cause, which it clearly didn't. And Lotus, quite obviously so, didn't debut their DDRS system in the race due to lack of running in practice. Button's pace looked as menacing as Hamilton's did in the last race in Hungary and does seem like he is everyone's favourite for victory tomorrow. And as discussed in our Belgian GP Podcast, we are also hopeful of Raikkonen scoring his first victory of the 2012 Formula1 season.
While Webber and Rosberg have been hit with gearbox penalties, Maldonado was slapped a three place grid penalty post-race for impeding Hulkenberg in Q1. And given Sauber's pace this weekend, could they just get lucky? Now do you still need more reason to tune-in tomorrow? And for Indian Formula1 fans, I hope ESPNStar broadcast the race in HD! (Read more: ESPNStar Scores Zero In F1 Broadcast)
Read this week's most read posts: