Facts and fiction, RJ Rishi Kapoor and I discuss both in our latest Formula1 podcast. Ferrari and Red Bull seem to have edged ahead of the pack and this is due to better understanding and exploitation of the Pirelli rubber than the competition. Does this mean that we will see a two horse race going forward this season? Also, big names like Schumacher and Raikkonen are capable of winning races, but are yet to win – will they eventually win? Hear all this and more in our podcast.
Topics that we discussed:
Karate kicks and chops in Hockenheim – fact or fiction?
Nurburgring or Hockenheim, what's your favourite? Hear what we pick!
And well, DRS in the old Hockenheim layout – how quick would that be?
Pirelli debuts and so do a few Formula1 drivers – any guesses who?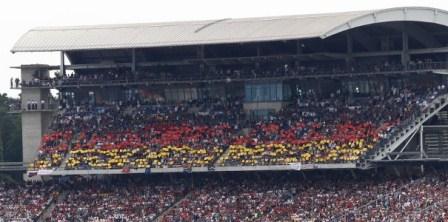 Raikkonen's jinx in Germany and is Lotus too conservative to win?
Also, Button thinks he still is in the Drivers' Championship hunt. Do you think so too? Hear our thoughts!
Maldonado thinks he's jinxed too! We wonder what the other drivers have to say about that though.
The Horse Whisperer said that Ferrari are not in a hurry to decide Massa's future with the Scuderia. Also, Hamilton and Schumacher's contract are pending extension. We spend some time explaining and decoding the current contract situation.
Rishi got a dreamed about Massa and the musical chairs he will play with other drivers for the 2013 Formula1 season. I would say this is our podcast 'special'!
Click to hear our 2012 Formula1 Podcast
Last but not the least, we make our predications for this weekend's 2012 German Grand Prix. And finally, Moscow welcomed Formula1 earlier this week. Will our sport finally enter Russia? Most certainly yes!