The forced 'August shutdown' might deprive the Formula1 fan of some much needed fortnightly wheel to wheel action, but for the Inside Line F1 Podcast and my Formula1 blog, I take this opportunity to bring to you some interesting stories connected with the sport. The marketer in me knows that in this period 'any' content that I put out on the sport will be well consumed, but the blogger in me knows not to misuse this opportunity!
In this week's episode of the Inside Line F1 Podcast, we bring back our promotional feature 'Know Thy Racer' and we speak to Sahara Force India's Academy driver Jehan Daruvala whose driving talent and achievements have prompted most to label him as the next best bet for an Indian Formula1 driver. And of course, in my view, he is also possibly on his way to inherit the 'Fastest Indian in the World' tag from Narain Karthikeyan, that is whenever the veteran racer decides to give it up, of course.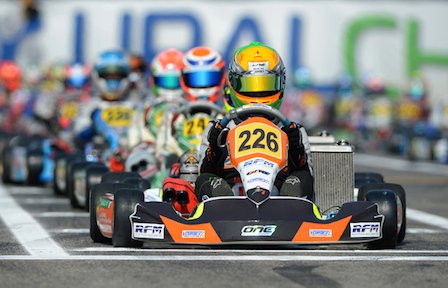 Jehan's story is that of 'living a dream' in the literal sense of the term. His triumph in the 2013 British Karting Championship was the best ever for an Indian racing abroad. You can read much about his progress as a racer under the Sahara Force India Academy banner here – 'Jehan Daruvala Wins The 2013 British Karting Championship'.
We've done an extensive feature with Jehan in this week's episode and I also spent a few hours with the young lad from Mumbai last week while he was busy interacting with media who were ever so curious to know about his progress. The most frequently asked question being, 'when do you switch to single seaters?'
The focus of my discussion with Jehan was to bring out the dream that he is living. His hard work, dedication, his team and the sacrifices he's made and is willing to make to make it to Formula1 as a Sahara Force India driver. It is one thing to 'dream' about being a Formula1 driver and it is another to 'live' it altogether, that too day after day after day. Jehan shared that he has been dreaming of racing in Formula1 ever since he started karting (about five years back when he was 11!) and is delighted that he's a part of India's only Formula1 team. He jumbles between attending school on weekdays and racing across Europe on weekends and points out at the lack of time in his life when I inquire about him having a girlfriend!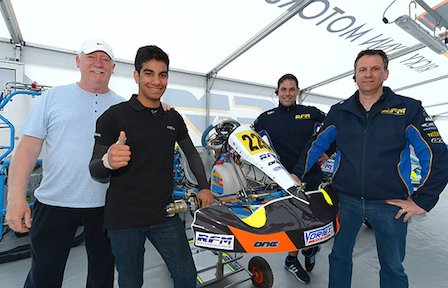 Jehan is quick to mention that one of his biggest influencers on the program has been Terry Fullerton, his driver coach, followed by Ricky Flynn (the team he racers for), Gerry Convy (Paul Di Resta's fitness trainer) and Don Macpherson (his sports psychologist). His fitness levels are on par with that of a GP3 driver and he explained his pre-race visualisation technique to me in great detail, which revealed that his mindset is that of a winner and a relaxed one at that! His mental coach has played a big part in helping him overcome the 'double pedalling' problem that prevailed last season. For someone who truly believes in 'mind over matter', I was much impressed by Jehan's mental make-up and maturity. (Read: Winning Matters In Formula1, Not Participation)
We spoke about his love for Parsi food (dhan sak), football (he prefers being the goal keeper!) and I was surprised to know about his interest and update to date knowledge about Cricket and the on-going India-England series. He interrupted our discussion by telling me that 'India will lose this test match against England' (we eventually did!) and then went on to read out the score to me from his phone. His keen interest in Cricket (most non-cricketing sportspersons in India dislike the sport for many reasons) got me to inquire further, to which he added that he liked watching test matches outside of India where they had 'green' tops and not flat wickets like the sub-continent venues!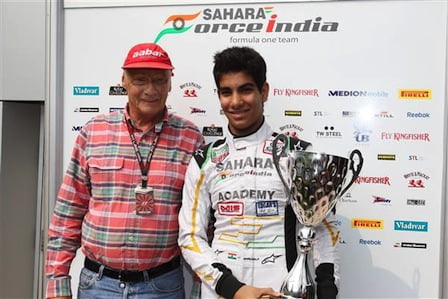 And while he may be years away from a Formula1 cockpit, Jehan has already had his tryst with former Formula1 World Champions. Niki Lauda heard of his success in the British Karting Championship and dropped by to congratulate him in the Sahara Force India hospitality at the 2013 Indian Grand Prix. However, it was his interaction with two other World Champions (both German) that had my interest.
In 2013, Jehan competed along side Michael Schumacher's son (Mick) and all it took was one aggressive maneuver from the Indian on Schumacher Jr. to have the German legend visit the Sahara Force India Academy awning and 'scold' a much excited Jehan on his move! And in 2014, Jehan beat the reigning World Champion Sebastian Vettel in the first round of the German Karting Championship (the WSK) in all the practice sessions. He was delighted to know that the quadruple World Champion came about inquiring his lap times through much of the sessions!
However, neither Vettel nor Schumacher are Jehan's favourite Formula1 driver, it is the double World Champion, Fernando Alonso. Now it would be something if Jehan graduates to Formula1 and the grid still has Alonso racing (hopefully not a Ferrari!) and the Indian manages to beat him. Much like the Vettel-Schumacher moment that we saw came true a few seasons ago.
The biggest highlight of Jehan's journey as a Sahara Force India Academy racer in the last three years has been his victory in the British Championship and his win in the WSK round in Castellatto (video link embedded) whereas his most challenging time was a few months ago when he was experiencing some chassis related issues. One of the lesser known aspects of Jehan's dream includes being a successful Formula1 driver with Sahara Force India, buying a yacht and mooring it off Monaco! (I am greeted with a smirk when I asked 'with a girlfriend?')
While he dreams, I wait for the reality to know when he switches to single seaters and in which championship, possibly his biggest career decision yet.