Lewis Hamilton entered the Hungarian GP qualifying session as the favourite to get pole position. After all, he was the fastest in both Friday practice sessions and was narrowly edged out in the Saturday session by Webber. He clearly was the man to watch out for!
Mercedes struggled through Saturday practice and were also on the radar of teams to closely follow in qualifying. And of course, the mid-field fight between Sahara Force India and Williams, right from qualifying to the chequered flag!
Thoughts from the Hungarian GP qualifying:
Q3:
Hamilton clinched his third pole of the 2012 Formula1 season. It was also his 22nd Formula1 career pole and is now tied with Alonso. His pole position lap was quicker than second placed Grosjean; one of the biggest margins of this season.
Conditions at the Hungaroring were expected to suit the E20 and it did so in qualifying as Grosjean drove a stunning lap to clinch P2, his career best performance. Raikkonen, was 4 tenths slower and managed P5. Warmer track conditions on Race Day should suit the E20 in the race as well. But what if it rains?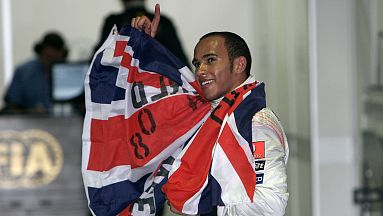 Vettel was the sole Red Bull Racing driver in Q3 and managed to lock P3 for today's race ahead of Button, who was 6 tenths of his pole-sitting team-mate.
For the first time this season, both Williams cars entered into Q3. They start P8 (Maldonado) and P9 (Senna). Senna showed good pace in the practice sessions and it was good to see him replicate the pace in qualifying. This was his first career Q3 appearance and it took him 3 sets of softs in Q2 to edge Webber by 0.018 seconds!
Both Mercedes and Sauber cars missed the Q3 cut by a mile! While I am not too sure about Mercedes, Sauber's race pace could still see them score some points.
Ferrari drivers Alonso (P6) and Massa (P7) attempted only one lap in Q3 to save tyres and also because they knew that they weren't fighting for pole. Massa was only a tenth off Alonso's time!
And Sahara Force India's Hulkenberg will start from P10. This is the fourth consecutive qualifying session where he has out-paced his team-mate.
Q2:
The top 10 times in this session were separated by only 6 tenths!
There were plenty of surprises in this session; Vergne (P16) made it through to Q2 and out-qualified Ricciardo. Both Mercedes cars were out-paced by almost everyone else and the other big fall-out was Mark Webber. He will start P11.
Considering that Hungaroring and Monaco have similar characteristics, one expected Mercedes to show better pace and result. However, it seems that they are still unable to cope with their tyre issues and hence are unable to extract pace. The other theory doing rounds as well is whether they have both cars on a wet setup in expectation of rain on Sunday?
Paul Di Resta will join Webber on row 6 of the grid in P12.
Q1:
Ricciardo registered the worst qualifying performance of his career and was the fall-guy in this session. He managed P18 and was half a second slower than Vergne.
However, the interesting time difference was between Ricciardo and Kovalainen. The Caterham was only 3 tenths slower and one hopes that this is the true pace of the car and not a one-off!
Pic qualified ahead of Glock for the second race in succession and both HRTs brought up the rear.
It seems that P20 and P24 positions are most favourite for Petrov and Karthikeyan respectively. Think they might go and make a record for qualifying in this position for the maximum number of times?
Mclaren and Hamilton have been nearly untouchable in Hungary this weekend. Should the conditions stay dry, I would expect them to be favourites for victory with Lotus hopefully making life tough for them. Also, I hope to see a four race horse at the front with Red Bull Racing and Ferrari joining the fight.
However, rain and thunderstorms are forecasted for Race Day and Mclaren haven't been too strong in the rains in the last few races. Should there be changing conditions, I would expect Alonso to be the driver to watch and hopefully Raikkonen too!
Also, from Alonso's perspective, should he not be in a position to win this race, he would hope that Grosjean scores his maiden win. Infact, even a Button, Hamilton or Raikkonen win would be welcomed and celebrated by the Spaniard; as long as the Red Bull duo don't eat much into his lead.
The other interesting battle to focus on would be between Sahara Force India vs Williams. Both teams are currently separated by a single point in the Constructors' Championship and this means that fight for 7th place will be an interesting one to follow.
And follow you can only if ESPNStar decide to air the 2012 Hungarian Grand Prix live in India! Yesterday, they did goof up the qualifying telecast! Were you also grunting?