Thursday was my first day at the Buddh International Circuit, the venue of the 2012 Indian Grand Prix. And I must admit that I was pleasantly surprised when I entered the circuit. The surroundings were green and the finishing touches which lacked last year were all taken care of. Infact, the circuit facilities found praise as usual amongst the visiting Formula1 team and their members.
Star Sports will broadcast all sessions of the Indian Grand Prix live and given how important this race holds for the Drivers' Championship, I expect more viewers to tune in than last year. And for those seeking entertainment from this race, should read about the 'Celebrity Presence At The 2012 Indian Grand Prix'.
Pirelli tyres will play an important role this weekend after teams have struggled to find the right balance and don't have much historic data on tyre wear at this circuit.
This is how the qualifying unfolded:
Q3:
Vettel and Red Bull Racing seemed unmatchable all along and he clinched pole with much ease, his 5th of the 2012 Formula1 Season. Webber was a tenth behind and will start from P2. Time for the Aussie driver to play wingman and help Vettel increase his championship tally!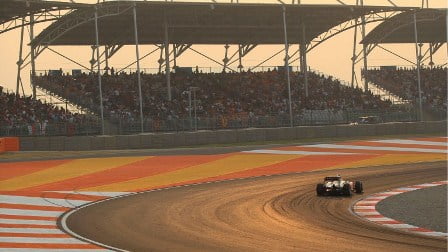 Hamilton and Button clinched row 2 for Mclaren and this should make the championship fight between Alonso and Vettel even more interesting. And I feel that Mclaren will be stronger in the race. Can any of these two score a win tomorrow?
And Massa was on the ball yet again after managing a laptime only a tenth off Alonso's. He starts P6, one place behind Alonso. And worryingly so, the Ferrari's were half a second off in qualifying! Can the F2012 help Alonso put up a fight against Vettel? Or are Ferrari's wind-tunnel issues hampering their car's development?
Raikkonen was a second down on Vettel in his Lotus and starts P7.
'Crash-analdo starts P9, just ahead of Grosjean in P11. Will these two behave in the first lap?
Q2:
The elimination times in this session were very close and Schumacher was the big name to make an exit in this session. He starts the race from P14 tomorrow. I wonder if he can score a podium for his Indian fans from this low on the grid, but it would be a welcome treat!
India's only Formula1 team, Sahara Force India couldn't manage to qualify any cars into Q3 in their home race. Hulkenberg missed the Q3 cut by a tenth and starts P12 and Di Resta, 16th. The team struggled with tyre issues and hopefully will have better race pace and give something to their local fans to cheer about!
I was disappointed with Senna's performance in qualifying after ending on P13. The Brazilian matched pace with the front runners in the practice sessions and failed to deliver when it mattered.
And Kobayashi, who seems to be disappointed about being let go by Sauber could only manage P16, 1.2 secs off Perez! Where will he drive next season?
Q1:
Karthikeyan, our local hero, was P23, ahead of the Marussia of Pic and just 0.001 of a second behind his team-mate. Quite a battle this is turning out to be! And that he is battling with Mclaren veteran Pedro de la Rosa speaks volumes of Karthikeyan's talent and effort in the slow running HRT! (Read more: Has TATA Made The Wrong Decision With HRT?)
And as usual, Vergne was the fall guy in this session and missed Q2 by 0.08 sec!
Kovalainen's spin and beaching of his Caterham saw him being out-qualified by Petrov. I wonder if the Russian will be staying with the team in the 2013 Formula1 season. Do you too?
While Red Bull Racing have shown good pace, I suspect Mclaren could have the upper hand in the race. However, should Vettel make a getaway at the start, I doubt it will be easy to catch him. However, I bumped into Button over dinner tonight and if he has his way, he could well be chasing Vettel after Turn 1!
So what is his way? Get up to P2 by Turn 1 and then chase down Vettel! Now let's just hope that happens!