The facilities around and inside the Buddh International Circuit won much acclaim over the weekend of the 2012 Indian Grand Prix. However, the race by itself was a big bore for me! And in my view, Pirelli went too conservative and brought the wrong tyre compounds to the race. I haven't accessed social media in the last three days so I am not sure if this has been mentioned by some other team, driver or Pirelli themselves.
Did you catch Star Sports' special Formula1 broadcast for the Indian Grand Prix weekend? Do let me know how you liked it! I missed all of it altogether!
By two bits on the race:
Sebastian Vettel was expected to win the race and he did. While I am not the types to separate driver and car, it is purely the RB8's might that's allowing Vettel to win without being challenged by anyone else. And yes, it is driver talent that is allowing Vettel to do what Webber has been unable to!
Vettel's 4th consecutive win means that he is now 13 points ahead of Alonso in the Drivers' Championship. Unless something goes drastically wrong, I see him winning his 3rd consecutive Drivers' Championship.
And I will commend Vettel for driving an error free race and the only time he would have had a scare was when he fast approached a punctured and wobbly Pastor Maldonado! Wonder what would have happened had they collided!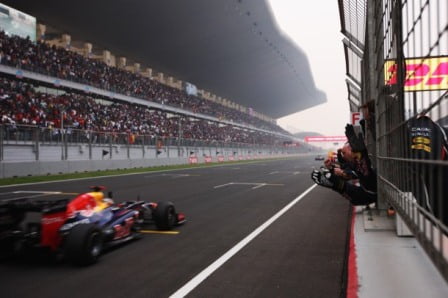 Alonso, the driver who is in the slower Ferrari and the one who never gives up, drove a classic race to finish 2nd and limit his championship damage. The best he could do was 2nd and he did exactly that. Kudos to him for taking the fight to Webber and overtaking him! And shame that Webber couldn't keep Alonso back. Could also be that Webber wants Alonso to take the Formula1 title win and not Vettel!
The opening laps saw some on-track action after the wide corners offered drivers to take multiple lines through and create overtaking opportunities for themselves. However, once everyone settled down, I got unsettled with my yawns.
I can run through the finishing order in the rest of this post, but I won't! Hulkenberg's 8th place finish deserves a special mention. Especially after he kept the faster Lotus of Grosjean behind him in the latter part of the race!
The other part worth mentioning was how the Sauber and Williams drivers picked up punctures regularly through the race by clipping front wings while overtaking their competition! Perez and Maldonado got one each; did Kobayashi and Senna get one too? On a track as wide as this, I would assume that avoiding each other's front wings would've been easier!
Schumacher fans would have been upset after a first lap puncture compromised his race. This was the German legend's last Indian Grand Prix and I would have loved to see him put up a show for his fans. (Read: Does Formula1 Need Michael Schumacher?)
And Karthikeyan finished 21st, but that's not my worry. My worry is the HRT brake discs which exploded yet again causing a retirement for Pedro de la Rosa. Can the FIA need to get involved on safety grounds and get them changed? (Read: Narain Karthikeyan To Drive For WilliamsF1 In 2013)
I am trying not to be harsh on Pirelli, but if the soft tyre could last for 30 laps or more, I wonder if the hard compounds would have lasted the entire race distance. The race saw most drivers make only visit to the pit garage for a change of tyres! Complete lack of entertainment! In my view, they should bring the super softs and mediums the next time around!
The 2012 Abu Dhabi Grand Prix is next weekend. I hope that race ain't as boring as this one!