He did it in 2010 and it seems that Sebastian Vettel is on a late championship charge in the 2012 Formula1 Season as well. Vettel jumped to second place in the Drivers' Championship after Hamilton and Mclaren gifted him victory in Singapore. He is still 29 points down on Championship leader Fernando Alonso, which means from now on Vettel and his 'Bull will have to be on the ball at every race if they wish to win their third successive Formula1 title.
The big news in the Paddock in Suzuka would be about Hamilton moving to Mercedes and Schumacher retiring and of course the bigger question is also if Perez can fill Hamilton's boots in Mclaren. You can hear RJ Rishi Kapoor and I discuss this in our latest Formula1 podcast "Can Perez Step Up For Mclaren?"
Back to Suzuka, this is how the qualifying session unfolded for me:
Q3:
Red Bull Racing were the quickest in FP2 and FP3 and it wasn't much of a surprise that they locked-out the front row in the qualifying session.
Vettel clinched his 4th successive pole in Suzuka and his career tally of pole positions now stand at an impressive 34! However, he received an official reprimand after Ferrari protested a block from Vettel on Alonso's final qualifying lap. Vettel has won here twice before, can he do it again on Race Day?
Vettel's pole lap was very impressive, however, it was somewhat aided by a spinning Raikkonen (P8) who busted everyone's final qualifying attempt! Well what is sport without some luck!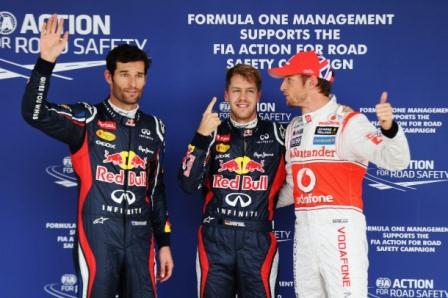 This was also Vettel's first pole position after the 2012 European Grand Prix which was held in June! Webber was two tenths off and settled for second.
Vettel's Championship rivals didn't have a great qualifying session with Alonso managing only P7 and Hamilton P9. While the Ferrari seems to lack pace overall, Hamilton admitted post-session about making a wrong set-up choice. Can Vettel capitalize from here and cut down his deficit to Alonso?
Home hero Kobayashi would be thrilled with his P4. He out-paced his Mclaren-bound team-mate Perez (P6) by three tenths. A good qualifying session for Sauber who are trying to hold off a charge from Sahara Force India.
Hulkenberg was the sole Sahara Force India driver in Q3 and didn't attempt a timed lap to save tyres for the race. He will also take a five place grid penalty for a precautionary gearbox change post FP3. (Read more: Can We Change The Gearbox Penalty Ruling?)
Q2:
Massa (P11), Rosberg (P15) and Schumacher (P13) were the big names that were eliminated in this session. I am not surprised by Mercedes' lack of pace here and of course I am sure Hamilton too had his eyes on them. However, Massa was quicker than Alonso in FP3 and much of qualifying but failed to deliver the laptime when it mattered. He missed Q3 by 0.02 of a second.
Last minute entry into Q3 by Grosjean, Perez and Kobayashi saw Paul Di Resta get eliminated by half a second. He will start from P12.
Maldonado showed good pace in Q1, but could only manage P14 in Q2. He missed the cut by three tenths.
The Toro Rosso drivers managed P16 (Ricciardo) and P17 (Vergne).
Q1:
Senna was the fall guy in this session and to be fair to the Brazilian, his qualifying attempt was blocked by Vergne while entering into the Casio Triangle. While Vergne was given a three place grid penalty for impeding, I believe that Senna would have probably lost lesser time had he not indulged in excessive hand waving mid-corner! He missed Q2 by a tenth of a second!
Kovalainen managed P19 in his Caterham, however, it was Petrov who made a mistake and was beaten by both Marussia's and the HRT of Pedro de la Rosa.
And the good news for Karthikeyan's fans is that the new floor that HRT brought to Suzuka worked and it showed when their car matched Marussia's qualifying pace. Unfortunately for Karthikeyan, his new floor broke during FP3 and had to revert to the old floor for qualifying. While he managed only 24th on the grid, the difference between the new and the old floor does seem to be 1.5 seconds – the time difference between Karthikeyan and de la Rosa.
Ferrari seems to be lagging behind in qualifying pace and one waits to see how their race will unfold tomorrow. Alonso's early season form is the only reason he holds the advantage in the Drivers' Championship but they will need to deliver a faster car if they want him to win his first ever title with the Scuderia. Over to Suzuka!
Read related posts "Narain Karthikeyan To Drive For WilliamsF1 In 2013" and "TATA Increases Investment In Karthikeyan, TATA Tea Enters Formula1 With HRT"