Watching Formula1 live is always a different experience, even more so when it is under the lights. I am in Singapore for the 2012 Singapore Grand Prix and like every year, this year too has delivered a great experience on track. While it is hot here, the humidity levels are lesser than last year and no I am not complaining!
Times from the practice sessions indicated a three way fight between Red Bull Racing, Mclaren and Ferrari. However, qualifying was a different story altogether. Here is how it unfolded for me:
Q3:
Hamilton stormed his way to pole and quite literally so. The margin between pole and P2 is half a second and should Hamilton keep his pace, I don't see why he wouldn't win tomorrow.
This is Hamilton's 5th pole position of the 2012 Formula1 season – more than any other driver. And he has won the last two races he started from pole.
However, it is the driver in P2 that could change the running order tomorrow, crash kid Maldonado! However, credit is due to him for a stunning lap to put him ahead of everyone except for Hamilton. Will he go through the race without an incident? Hopefully he doesn't wipe out any of the title contenders!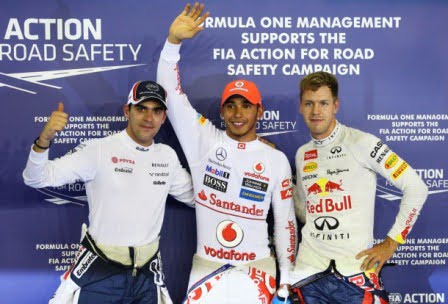 Webber's run in Q3 ended in a disappointing 7th place, whereas Vettel managed 3rd. I am sure Red Bull are disappointed with their qualifying pace, but will they have the race pace to challenge Hamilton?
Alonso's lap was a second off Hamilton. While he has a healthy 37 point advantage in the championship, I am sure he will want to get onto the podium to limit damage in the championship. And I certainly don't see how Massa can help!
Sahara Force India's Paul Di Resta qualified in 6th by clocking the fastest lap of his weekend in Q3. It will be interesting to see how his race pans out and if he can move higher up the order in the race.
Mercedes were wary about excessive tyre wear and chose to sit out of Q3 and save an extra set. Will this help them in their tyre strategy tomorrow? I don't think the W03 has the pace for Singapore!
And Grosjean, a ban from the 2012 Italian Grand Prix didn't stop his wild ways on track which almost ended in the barriers in Q3!
Q2:
Massa and Raikkonen were the big names that got eliminated in this session. The Lotus seemed to struggle for grip around the street circuit. However, I don't rule out a Raikkonen charge up the order in the race tomorrow. Will he leave Singapore third in the Drivers' Championship?
Hulkenberg, who was in the top ten throughout the weekend, missed out on Q3 by 0.03 of a second! He starts 11th with a free choice of tyres!
Senna should be awarded for his consistency! In FP3 and in qualifying, he scrapped the wall a little too hard at the same corner leading to retirement! Will Bottas replace the Brazilian in Williams next year?
Q1:
Kobayashi was the fall guy in Q1, who indicated post session that he was unhappy with the car. However, the interesting rumour I heard in Singapore was that Kobayashi is on his way to Ferrari as their third and reserve driver for the 2013 Formula1 season.
I was disappointed to see Marussia not beat Caterham in qualifying after being ahead of them in much of the practice sessions. While Glock was tenths off Kovalainen, it was Petrov who out-qualified the Finn by three tenths. Do the Marussias have quicker race pace? Action at the bottom could finally get interesting!
And for Indian Formula1 fans, Karthikeyan got the better of his team-mate by a second! Phenomenal effort! Two back-to-back races where Karthikeyan's gone quicker! The TATA boost maybe! (Read more: TATA Increases Investment In Karthikeyan, TATA Tea Enters Formula1 With HRT)
While it doesn't change anyone's life, de la Rosa will take a 5 place grid penalty in the race tomorrow for an unscheduled gearbox change! Now when will they change the gearbox ruling?
I feel that Singapore could change the course of both championships and hence it will be important to see how the race pans out. Safety Car periods are likely, so there could be a chance of a few drivers getting a jackpot during their round of pit-stops. The difference between the softs and super-softs is about 1.5 second and this could make tyre strategy even more interesting. Pirelli reckon 2 or 3 stops in the race tomorrow.
My money would be on Hamilton, if he gets a clean get away. If not, Vettel and Alonso will be around to hunt him down. And alongwith this, I am still keen to see Marussia beat the Caterham! Over to Race Day!
Mclaren To Make It Four In A Row – RJ Rishi Kapoor and I predicted this earlier this week. Do read that post! And were you one of the many Formula1 fans in Mumbai who got bored at the Vodafone Speedfest? Read my experience here: Speed Found Lacking At The Vodafone Speedfest!