Phew! 4 months seemed like a long wait when I finally heard the engines fire up for the 2013 Australian Grand Prix Qualifying. In my earlier posts and podcasts, I have mentioned that nothing much has changed between the 2012 and the 2013 Formula1 Season, barring for the fact that with HRT going bust, Q1 and Q2 would have 6 drivers being eliminated.
While I will miss the HRTs on the circuit (the more the merrier, especially if one of them was Narain!) their absence will mean that the biggest fight in qualifying all season long will be to avoid the 'other 2' elimination slots in Q1. This of course is assuming that the 'two news' teams, Marussia and Caterham, would fill up the other 4! Boy, I can't believe I am referring to them as 'new' still!
Here are my observations from the 2013 Australian Grand Prix Qualifying:
Q1:
The session started all wet, with a mid-session switch to intermediates, leading to faster lap times.
'Men from the boys' is the most used (and cliché) term to describe how qualifying under such conditions would be. With little dependence on the car and higher dependence on driver talent, the prime suspects to excel in such conditions would be Button, Alonso, Hamilton, Sutil, Hulkenberg, Raikkonen and even Vettel.
The other eye of course was on the rookies and their performance or otherwise on their debut in Formula1.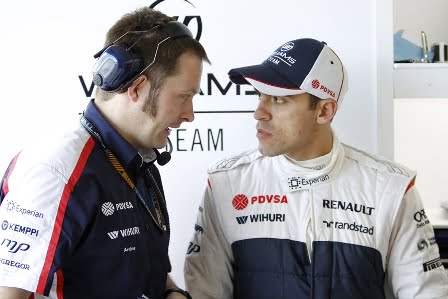 Early action was provided by Hamilton, who had a spin, hit the wall, but still managed to keep it going and avoided elimination. An indication that luck will favour Hamilton this season?
The session ended under yellow flags as Gutierrez crashed, affecting final Q1 attempts for Raikkonen, Sutil and others.
Caterham would've run out of spare front wings after both their rookie drivers ended up losing theirs due to driver errors. Ultimately, and if this is the sign of things to come for the team this season, both Marussias out-qualified the Caterhams.
As predicted in our Formula1 podcasts, Bianchi out-qualified Chilton by 8 tenths!
Maldonado (or 'Crash'analdo as we call him!) was the first of the fall guys of Q1, followed by Gutierrez. The 2012 Spanish GP winner missed out of Q2 by three tenths, but what would have hurt him more is that his rookie team-mate Bottas made it through to Q2 – the only rookie to do so!
In sessions like these, lap times aren't most representative of true form, but Bianchi managed a time which was only three tenths of Gutierrez's!
Q2 and Q3 in my view will be (and should be!) postponed to tomorrow due to fading light, so I am now off to watch Armin Van Buuren perform the 'A State of Trance 600' in Mumbai!
And if there is a postponement to tomorrow, there will be a programming headache for all the broadcasters and of course very early mornings for the Formula1 fan! See you back on Race Day!
While you wait for the FIA to confirm the postponement, go ahead and hear the 2013 Australian Grand Prix Podcast by Rishi Kapoor and myself.
Qualifying positions (updated after conclusion on Sunday):
Top 10 & Q2 Eliminations:
Sebastian Vettel
Mark Webber
Lewis Hamilton
Felipe Massa
Fernando Alonso
Nico Rosberg
Kimi Raikkonen
Romain Grosjean
Paul Di Resta
Jenson Button
Nico Hulkenberg
Adrian Sutil
Jean Eric Vergne
Daniel Ricciardo
Sergio Perez
Valtteri Bottas