In the pre-season, while the Formula1 teams and drivers were testing, Rishi and I hosted our Formula1 Podcast Awards, introduced 11 new drivers to Formula1, paid tribute to Ross Brawn (his Last Formula1 Season?) and of course waited for 'Testing to End, Racing to Begin'.  (Now, if you've not already heard our pre-season podcasts, go ahead and click!)
We are now in 'the' week when Formula1 fans wait anxiously for the first ever racing weekend of the 2013 Formula1 season. The week when suspense takes over with 'who will be the fastest?' and with the stat in mind that 60% of the Australian GP winners have gone to win the Drivers' Championship that season!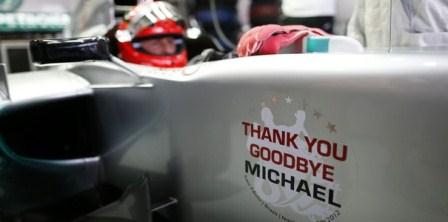 Anyhow, we observed our Mondays as usual and recorded our podcast which is also our preview of the 2013 Australian GP. In this week's Formula1 Podcast, here's what we discussed: (YouTube channel: http://youtu.be/0YbZNqaPxwQ)
If Schumacher were to turn TV commentator…

We assess his competition
And what they 'could' end up facing from Schumacher!

And there will be new drivers on the grid of the 2013 Australian Grand Prix, we try and pronounce their names! (Schumachers in the making?)
We share our memories from the Albert Park in the last few years. Some exciting duels, accidents and near wins and misses! (Have some of your own? Share them with us!)
And we play darts in dark – hear our podium predictions for the 2013 Australian Grand Prix. Agree or disagree?
Still on TV commentary, I would love to see what Kimi Raikkonen can do! 😉
Over to Melbourne…
And all you Michael Schumacher fans should read my opinion post 'Does Formula1 Need Michael Schumacher?'
Inside Line Formula1 Podcast is produced by Rishi Kapoor and Kunal Shah. Follow us on Twitter!