The Inside Line F1 Podcast has been hosted on this Formula1 blog and various other platforms for more than two seasons now. Soon, we shall have our centenary as well. However, we will talk about it once we get there.
The fun part of this podcast is the notes that Rishi and I exchange during the GP weekend, followed by the recording on the Monday post-race. The even more fun part (which we both try and avoid) is choosing the title for the podcast!! So here is the latest episode 'Formula MontREAL'.
While we saw Vettel and Red Bull Racing rejoice their first ever victory in Canada, we also had a tragic incident where a marshal lost his life. Incidents like these bring the entire fraternity together (team personnel, drivers and fans alike) who appreciate that while we have made great strides in improving safety, motorsport is still a dangerous sport.
Here's what we discuss in the latest episode of the Inside Line F1 Podcast: (YouTube channel: http://youtu.be/ki2KPdM0ogI)
Safety first in Formula1! A BIG thank you to all track marshals as we pay our condolences to the marshal who lost his life in the 2013 Canadian Grand Prix. Kudos!
There's always something about the Canadian GP, is it the layout? The fans? The weather? Or the name? We try and explore.
I wrote on how 'Vettel and Raikkonen did a Schumacher', time to rechristen 'Baby Schumi' to 'Schumi' himself?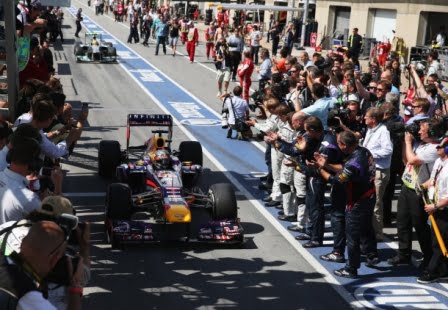 Pirelli and DRS didn't overtly influence racing. This is what Formula1 should be about. Some classic REAL racing. We pick our favourite few!
Mclaren, what on earth are they upto? Are you relishing the Perez vs Button battle?
Sahara Force India's 100th GP! Whatta performance from both drivers and the VJM06!
Raikkonen and Lotus? The Iceman should leave! To Red Bull Racing? Or go back to Mclaren? Does he have options for the 2014 Formula1 Season? (Read: Where Will Kimi Raikkonen Be In 2014?)
Vergne vs Ricciardo to battle for Webber's seat. Confirmed! (As Rishi put it 'Vergne did an Alonso')
Lastly, we talk about the Forbes Highest Paid Athletes' List. Guess which Formula1 driver made it there? Who did they compete with? Are the results satisfying enough? I try and offer a few insights. A segment for all sports marketing business lovers!
With the 2013 British Grand Prix three weeks away, Rishi and I have a few special episodes of the Inside Line F1 Podcast lined up. Do tune in next week!
If you are an Apple user, you can subscribe to the Inside Line F1 Podcast on the iTunes Podcast Store or via our RSS feed (for Android / Windows / Blackberry users).
The Inside Line Formula1 Podcast is produced by Rishi Kapoor and Kunal Shah. Follow us on Twitter and on our Soundcloud and YouTube channels.