In a race that had half the field starting on the preferred medium tyres and the other half on the soft tyres, the 2013 Chinese Grand Prix was a bit of a cracker, albeit in patches. (Read: 2013 Chinese GP Qualifying – Hamilton Claims Expected Pole)
The first patch of crackling action was at the start of the race when Formula1 cars turned into bumper cars! We had Gutierrez take out Adrian Sutil, followed by tangles between Perez – Raikkonen, Vergne – Webber with Webber finally losing a wheel at the end of the long back straight! It would have been some sight had his spinning lose wheel caught up Vettel in the passing! (Read: 'Chinese GP: A Back Straight And Hair Pin To Rely On')
The second patch was offered by a chasing Vettel in the closing stages of the race. On a new set of softs, he chased and almost overtook Hamilton for the final place on the podium. Eventually, Alonso, Raikkonen and Hamilton made it to the podium – giving me a 100% in my podium predictions pre-race!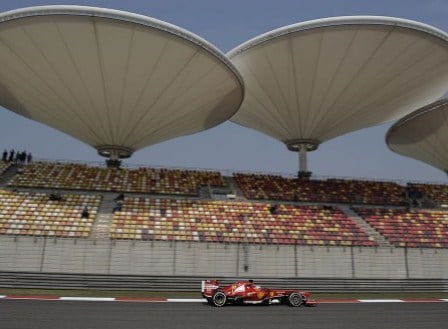 Also, interestingly, the top five race finishers were the five World Champions, driving for five different Constructors. And we had six different leaders in the race, with the lead changing as many as nine times!
And, last but not the least, the results below are only provisional. The FIA has nearly 50% of the grid being investigated for race incidents. This could also mean that we could have the final race results by tomorrow!
Race Results:
Fernando Alonso – Great drive. Calm. Composed. Alonso-like!
Kimi Raikkonen – Could he have challenged for win had he not damaged his car?
Lewis Hamilton – P1 to P3, do you think Lewis would be happy? And will Mercedes be able to fix their rumoured FRIC leakage issue by Bahrain?
Sebastian Vettel – Thank you for the late charge and adding some excitement to the race. Had to try a different strategy to claim positions and he did. What if he had pitted for soft a lap earlier? Could he have overtaken Hamilton? Or would his tyres have gone off the cliff?
Jenson Button – Only Button could've put a struggling Mclaren on a two – stopper this high up the finishing chart! Kudos!
Felipe Massa – An extra lap in his first stint saw him lose most positions early in the race. Couldn't Ferrari have double pitted their drivers like Mercedes?
Daniel Ricciardo – I was wrong in my post-qualifying predictions. Thought he could go backwards and out of the points. But great pace from the Australian to finish ahead of all other mid-field teams.
Paul Di Resta – Glad to see him finish ahead of Hulkenberg and Grosjean. Good points for Sahara Force India!
Romain Grosjean – Was he even on track? Can't recollect a single frame of TV coverage for him! Or his sponsors!
Nico Hulkenberg – Drove a good race early on, lost pace in the dying moments.
Sergio Perez – Does he think that Mclaren are a mid-field team?
Jean Eric Vergne
Valtteri Bottas
Pastor Maldonado – Fought off a Bianchi in most parts of the race! What's with the Williams?
Jules Bianchi – Expected!
Charles Pic
Max Chilton
Giedo Van Der Garde – Ah! Well!
Did Not Finish
Nico Rosberg
Mark Webber – One driver whose luck I wouldn't want to inherit!
Adrian Sutil – Could he have scored double points for Sahara Force India? He was ahead of Paul Di Resta and given his early race pace, he probably could've!
Esteban Gutierrez – What was he even thinking! One rookie error, done!
While many would rejoice an Alonso – Ferrari win, I was slightly disappointed during the race as we saw drivers not willing to fight each other and cause more tyre wear to their Pirellis. Opinions are split equally on this, but I certainly feel that raw pace should be the key decider for choosing the eventual winner and not tyre management skills! After all, we are participating in the FIA World Formula1 Championship and not in the Pirelli World Tyre Championships!
And if you are the types who prefers tyre conversation over raw pace, tune into the World Endurance Championships which hosts its opening round today in Silverstone.
Rishi Kapoor and I will be recording our Inside Line F1 Podcast tomorrow. If there are any views or opinions regarding the 2013 Chinese Grand Prix, share them!