Though Formula1 action resumed this weekend with the 2013 Chinese Grand Prix, fans had a lot to complain about as cars remained in their pit garages for a large part of the qualifying session. One of the main reasons for this lack of action was due to Pirelli's aggressive choice to bring the medium and soft compound tyres to this GP.
While the mediums remained consistent over long runs (18-20 laps), the soft tyres started graining after a short stint of 4-6 laps (different for different teams) with a few drivers complaining of complete lack of grip by end of the first lap itself! It is easy to be a critic of Pirelli and their tyre compounds, but like I have said this before in my earlier blog posts and on the Inside Line F1 Podcasts, they are only delivering what was ordered of them.
Given this issue, which neither the teams nor drivers nor fans can control, tomorrow's race could well be won (yet again!) by the driver who manages his tyres better. And in Lewis's case, fuel too!
Qualifying Results from the 2013 Chinese Grand Prix:
And before you read below, take some time to know more about the unique track characteristics of the Shanghai International Circuit: 'The 2013 Chinese Grand Prix Podcast'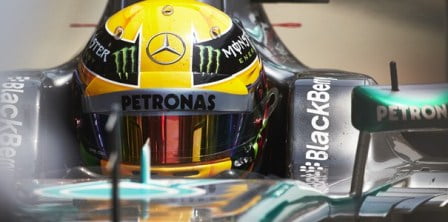 Lewis Hamilton: Clinched an expected pole position and by a healthy margin (three tenths)! His first pole with Mercedes and third in China. He will start the race on the softer tyre and I expect him to pit within the first seven laps. For Lewis, along with tyre management, fuel management will be the key. While Mercedes have shown consistent pace in the long runs, I don't fancy him winning the race tomorrow.
Kimi Raikkonen: A surprise to see Kimi in P2, especially after Lotus didn't scorch the track in the FP sessions. The team has always wished for improved qualifying pace and with this starting position, I would assume that Kimi is in a good place to win the race tomorrow. And Lotus is probably the best on the grid when it comes managing their tyres.
Fernando Alonso: I had predicted and Alonso vs Hamilton battle for pole and that's ultimately what we got to see. While P3 is good for Alonso, my guess is that they have compromised setup for better tyre management over one lap pace. My pre-qualifying prediction was an Alonso victory followed by Lewis and Kimi. Hopefully that comes true!
Nico Rosberg: Some say that the lack of running on the soft tyre in the FP session prior to Qualifying probably dented Nico's fight for pole today. However, in my view, Nico just succumbed to pressure in the final minutes (ran wide at the last corner?). He should've been in the fight with Lewis and in P2, if not P1.
Felipe Massa: Two tenths off Alonso, job well done, though I was hoping that Massa created history by out-qualifying Alonso five times in a row! I expect him to finish the race in the same position (or around). Though the Ferrari too looked consistent on their long runs.
Romain Grosjean: Six tenths off Kimi and in sixth! With the twisty first sequence of corners, hopefully we see Grosjean and not 'Crash'jean in action.
Daniel Ricciardo: Gutsy drive that say Button say 'WOW' in his pit-radio post session. Haven't tracked Toro Rosso's medium / soft tyre run this weekend (rarely do), but it does seem to me that the Red Bull B team went for Saturday glory at the cost of points on Sunday. The Australian will start the race on the softer tyre, while the guys below him will most probably be on mediums! Where will he finish? Any pointers?
Jenson Button: I expected Button to try a different tyre strategy to the others and he did. The only top 10 qualifier on the medium compound tyres. Clearly race strategy on his mind during his Q3 session.
Sebastian Vettel: Pole out of reach, podium in sight? At least that's what Vettel and his team of engineers have indicated by choosing to run Q3 on mediums, but not setting a laptime. This means that he will have an extra set of softs and a scrubbed set of mediums for the race tomorrow. And what tyres he decides to start the race on will be extremely crucial. My guess? Mediums!
Nico Hulkenberg: Good to see him here, much like Vettel, put on a set of mediums in Q3, but didn't set a time. Start of race tyre option will be crucial. And of course, watch out for 'The Hulk'.
Paul Di Resta: Unfortunate to miss out on Q3 by less than a tenth! However, best position to be as he has saved an extra set of tyres and can choose what compound to start the race on. And of course, excellent to see him beat Adrian Sutil and Sergio Perez.
Sergio Perez: What's he even doing? Two spins on Friday, elimination on Saturday. What's in store for him on Sunday? Any slip-ups and I expect the media, fans and even Mclaren management to come down hard on him!
Adrian Sutil: Got beaten by Paul Di Resta (this fight is very exciting!) and can he repeat his Melbourne strategy and get himself in strong contention for the race? I am a hopeful!
Mark Webber: Fuel pressure problem, or no fuel? Webber will be given a post-race penalty and relegated to P22! Are you the conspiracy theorist that Twitter is abuzz about?
Pastor Maldonado: Seems like a 'has been' already? Or is it the Williams car really?
Jean Eric Vergne: On a day when Ricciardo is in the top 10, Vergne will never be able to justify his slow pace to be 9 positions down! With Webber's seat up for grabs (speculation!), Vergne isn't doing himself any favours!
Valtteri Bottas: All rookies got eliminated in Q1! Not much of a surprise!
18.   Esteban Gutierrez
Jules Bianchi: One eye on Jules, the other eye on the rest! Can we please promote him mid-season? I can't wait till the 2014 Formula1 Season to see him in a better car! If not, let's all give some money to Marussia so that they can develop his car (only his!) better and make it faster!
20.   Max Chilton
21.   Charles Pic
Giedo Van Der Garde: P22, again! Ah!
With the long track silence seen across all the sessions, is it time to introduce qualifying tyres? This debate (along with many others!) is a never ending one. But what's your view?
And of course, your predictions for tomorrow's race?
Read the previous post that I penned with Dr. Shree Advani, one of India's leading sports and performance psychologists: 'Winning Matters In Formula1, Not Just Participation'