Michael Schumacher has quit Formula1, again. And for the second time in his career, he was probably forced to do so. This means that the 2012 Formula1 season will indeed be the last time this German god will blaze the race tracks!
Does Formula1 need Schumacher? This has been one of my most favourite topics to write on so here I go again!
Schumacher's return to the sport was in 2010. Back then, Formula1 did need a Schumacher to stir up the interest levels in the sport. Don't quite agree? Here's my view.
Post his first retirement in 2006 and till 2010, Formula1 barely had any role models or starry drivers to look up to. Vettel and Red Bull Racing were yet to win their first world title. Hamilton was still a new-comer and had won his first and only world title by a really narrow margin. Button had just won the title with Brawn but it was only when he moved to Mclaren did he win fans in the market. As for Alonso, he always had a love-hate relationship with fans after his infamous Singapore episode in 2008 followed by his spat with Mclaren the next year. The Spaniard too had only just moved to Ferrari, his third team in three seasons. And Raikkonen after a championship and a lackluster year with Ferrari was rallying away somewhere! Of course, back then Twitter too had a little role to play to get F1 drivers closer to their fans!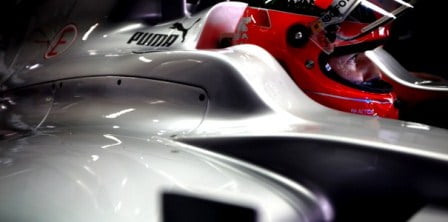 Barrichello, Webber, Massa are good drivers, but not the best names to sway hordes of fans towards the sport. Those seasons, we didn't even have the DRS wing which has apparently pleased fans by upping the overtaking and hence entertainment quotient!
My point is – back in 2010 the sport needed a star driver to bring the interest levels back. And who better than a 7 times World Champion to make a comeback and fight it out with kids half his age! Great PR stories for all invovled – the sport, Mercedes and Schumacher himself!
However, switch to 2012 and I ask the same question! Does Formula1 in 2012 need a Schumacher?
We now have the 'Baby Schumi' out to defend his world title this year and Red Bull Racing is a team delivering consistent performances at the front. Alonso has won more hearts this season than he ever has after his spirited drives in the Ferrari. Hamilton's pace has been unmatchable this year and Button has been the most personable driver in the Paddock in the last few seasons. And of course, there is more interest in ice creams since Raikkonen's return to the sport this year.
Also, barring Raikkonen and Vettel, the other World Champions have used Twitter very effectively (much to the shock of their PR machinery) to bridge the gap between themselves and their fans, something that the fans have never experienced before.
And we've had new talent like Perez, Di Resta and Hulkenberg come up the ranks and in consideration by the top teams. The point I am making is that Formula1 has found new stars in the last three years and hence it probably doesn't need the services of the star who singlehandedly drove the fans to and away from the sport in the 2000s.
I am a staunch Schumacher fan and would never like to see him retire, however, I somewhere believe that hanging his boots this year is the right decision. While I do feel that he will join Mercedes in a consultant's role, could we see him walk away into oblivion and disappear from the sport that once treated him as the lead hero and dropped him twice as a body double?
For me, Schumacher will always be the greatest of them all and the one for all the current and future Formula1 stars to beat.
Read latest posts on my Formula1 blog on Narain Karthikeyan, Indian Grand Prix and my Formula1 Podcasts recorded with RJ Rishi Kapoor.
Also read the most read posts on my blog:
1. Narain Karthikeyan To Drive For WilliamsF1 In 2013
2. TATA Increases Investment In Karthikeyan, TATA Tea To Enter Formula1 With HRT
3. Hamilton To Mercedes, Schumacher To Retire
4. Airtel Partners Mercedes AMG Petronas For The 2012 Indian Grand Prix
5. Has TATA Made The Wrong Decision With HRT?