Hours after Vettel's triumph in the 2013 Italian Grand Prix, media and fans (primarily via social media) went abuzz about Ferrari's much rumoured and much discussed 2014 driver line-up. The conversations around this topic stole the thunder from Vettel's near-perfect race that ultimately saw him win pole-to-flag in astute fashion.
And while one thought the speculation was about Massa's replacement, the rumours mills indicate that either one or even both drivers could be replaced by the Scuderia.
Shocking? Well, not really if one has been following developments in the Ferrari camp in the last 4-6 weeks. Alonso, Massa, Raikkonen and Hulkenberg are the drivers playing musical chairs (or cockpits, if you may like) and in this week's episode of the Inside Line F1 Podcast, we try and assess various permutations and combinations and of course try and figure who could be the biggest gainer and loser!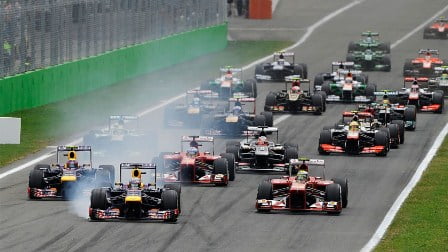 Here's what's in store for you in our latest Formula1 podcast: (YouTube channel: http://youtu.be/RLKhTCNJIyw)
Something's amiss in the 'formula' of Formula1 if Spa and Monza have produced boring races. What is the missing element? Is it the Pirellis again? (Read: Why Pirelli Should Not Renew Their Formula1 Contract For 2014)
What's with the boo-ing? Isn't Vettel doing what he's paid to do? What every driver, World Champion or not, is expected to do? It is time Formula1 fans show some respect. (Read: Not Hats, But Helmets Off To Vettel)
And yet again, we focus on how competitiveness of the 2013 Italian Grand Prix. We had three World Champions fighting for P9 and P10!
Focusing on Ferrari, there are various combinations possible, Rishi and I offer our views and yes, they're differing again. And is Rishi starting yet another rumour with his choice?
The stakes are the highest for two drivers, one a former World Champion and the other a future potential. Hear our views.
If Ferrari is keen to bring back their ex-driver, why not consider bringing back Schumacher? After all, he was untouchable in the scarlet red cars and overalls!
And before we sign off, kudos to Ricciardo for a well-deserved promotion and producing stellar drive in Monza. Glad he didn't do a Perez!
By the time we are back next week, a new Ferrari driver will be announced and the anticipation is much like the new Pope being crowned by the Vatican! But the one line-up that will remain unchanged for the 2014 Formula1 Season is the line-up on the Inside Line F1 Podcast, keep tuning in!
Earlier posts and podcasts related to the recent drivers movements:
The Inside Line F1 Podcast is now available on various platforms and I would urge you to choose your platform to listen to the humour that we add to the otherwise serious and complex sport of Formula1.
If you are an Apple user, you can subscribe to the Inside Line F1 Podcast on the iTunes Podcast Store or via our RSS feed (for Android/Windows /Blackberry users).
The Inside Line Formula1 Podcast is produced and hosted by Rishi Kapoor and Kunal Shah. Follow us on Twitter and on our Soundcloud, MixCloud and YouTube channels.