The 2013 Spanish Grand Prix was most awaited. After all, it marks the start of the European leg of Formula1. Why? Because quite simply put, it is the first European race of the 2013 Formula1 season.
It is at the Spanish GP where teams plan to bring the first of their major upgrades for the season. Reasons? Barcelona is geographically closer to their factories (most of them are based in Europe) and of course the first few races do offer race data for them to assess and re-asses.
These new upgrades make the Free Practice sessions in Barcelona a bit more interesting to watch. After all, it is good to track whose upgrades have worked and whose haven't! And most fans should know that the upgrades are tested only on Fridays, because as per regulations, the components used in the Free Practice 3 session on Saturday need to be used in qualifying and the race. A guide to ALL the updates that team's brought to Barcelona 'What Upgrades Did You Bring To Spain'?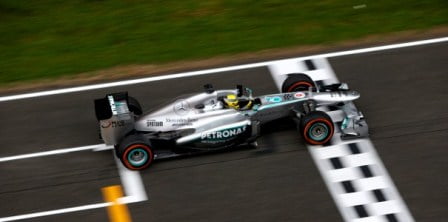 Here's how the 2013 Spanish GP Qualifying unfolded:
Nico Rosberg: clinched his 3rd career pole in Formula1; 3rd straight Mercedes pole in 2013 and his 2nd consecutive pole position! His pole lap was smooth and sublime yet again. However, as he mentioned post-session, he and the team are wary of their race pace and tyre wear. Will he go backwards? I would assume so, but by how many positions?
Lewis Hamilton: a Mercedes 1-2 and theirs were the only cars to break into the 1.20min barrier. After seeing their superior one lap pace (yet again!) in qualifying, I believe that they were sandbagging in the FP sessions! And few would believe that Hamilton has never won here before…
Sebastian Vettel: missed pole by 3 tenths, but I don't think that would bother him. What would bother him would be Raikkonen who qualified higher than the previous races. I am expecting a classic Vettel vs Alonso vs Raikkonen battle all through the race tomorrow. Who will come out on top?
Kimi Raikkonen: he wanted to qualify higher on the grid and he did. Will his superior race pace help him clinch his second win of the season? My money is on Raikkonen for the race win tomorrow.
Fernando Alonso: I expected him to fight for pole, but he was half a second off! However, his immediate rivals are around him and it will be a good sight to see them battle in the race. I would expect him to make an appearance on the podium.
Felipe Massa: played no. 2 role to perfection; was only 0.001 slower than Alonso.
Romain Grosjean: only three tenths off Raikkonen, but I expect him to have a strong race too. Will he get in the mix with the championship contenders?
Mark Webber: in my view, the multi-21 issue ('Multi21, Team Orders and PR Talk') has affected Webber's confidence and mental peace. I don't see why he is half a second off Vettel and down in P8. He should be at the front fighting for pole. Time for him to go? ('Raikkonen To Red Bull Racing In 2014')
Sergio Perez: after being baptized as a Mclaren driver in the 2013 Bahrain GP, a good lap to get into the top 10. Especially if you beat your World Champion team-mate by 6 tenths!
Paul Di Resta: the only mid-fielder (yet again) to qualify in the top 10 (first for Sahara Force India!). With strong race pace, I would like to see him score a top 5 finish again. Will he?
Daniel Ricciardo: off all the teams that brought upgrades to Barcelona, Toro Rosso's seemed to have worked the most. He missed Q3 qualification by less than a tenth. A point of two in the race should be a good reward. Or will he do better?
Jean Eric Vergne: the 'fall guy' of the 2012 Formula1 season showed that when the car is right, he can deliver the goods too. Ricciardo vs Vergne for replacing Webber? I guess so!
Adrian Sutil: would be disappointed to be beaten by his team-mate and the two Toro Rossos. Had he got track position for a clean lap, he would have been in Q3 as well. Hope to see him make ground and score points in the race tomorrow.
Jenson Button: when Button shines, he shines the brightest and when he struggles, he struggles the most. Most lackluster performance of 2013; first time that he couldn't make it into Q3. I don't expect him to score points in the race tomorrow (ouch!).
Nico Hulkenberg: what on earth is happening at Sauber?
Esteban Gutierrez: expect a grid penalty for impeding Raikkonen in Q3.
Valterri Bottas: only solace is that he qualified ahead of Maldonado and missed Q2 by less than a tenth.
Pastor Maldonado: from hero in 2012 ('Maldonado On Fire In Spain'), to zero in 2013. There was a tweet that said that Maldonado was screaming at his trophy winning image from last year in the build up to qualifying to motivate himself. Clearly, it didn't work!
Giedo Van Der Garde: best of the newcomers! (are they still newcomers though?)
Jules Bianchi
Max Chilton: should be glad that he was only two tenths behind Jules!
Charles Pic: Caterham's new front wing was only for Pic. I guess that didn't work at all!
Will Mercedes spring a surprise in the race too? Will they manage their tyres better? How many drivers will have their race compromised due to Pirelli's tyre issues?
A Vettel vs Alonso vs Raikkonen battle is certain, but will it be for the win? And what about the no. 2 drivers? Massa  vs Grosjean vs Webber for an outside spot on the podium? And for the Indian F1 fans, will Sahara Force India score double points finish yet again? All this and more on Race Day!
To know my predictions, tune into 'Aero or Tyre efficiency in Spain'!