The new era of Formula1 dawned upon us as the lights went out for the 2014 Australian Grand Prix. After an expected pole position for Mercedes at the hands of Lewis Hamilton, it was his team-mate Nico Rosberg who drove a Vettel-esque race to victory. And while the era has brought a plethora of regulatory changes, the podium ceremony played an anthem we heard 14 times in the 2013 Formula1 Season – the German one! Talk about change!
'Rain, Ricciardo and Rookies' shone on the Saturday of the GP weekend but it was only the rain that failed to show up on the Sunday. Aussie driver Ricciardo, whose team Red Bull Racing seemed to have 'grown wings' literally to make a splendid recovery from their disastrous pre-season tests, drove one of the best races of his career to clinch is maiden Formula1 pole and that too on home turf, although he was disqualified post-race after a fuel flow irregularity. Kevin Magnussen finished 3rd and was promoted to 2nd place after Ricciardo's exclusion making him one of the best rookie debuts since Villeneuve in 1996. And of course, Kvyat's P9 made him beat one of Vettel's records – youngest ever driver to score a championship point.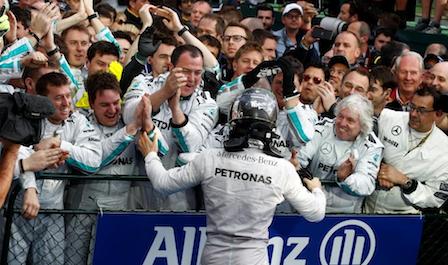 My choice for the best rookie and 'driver of the race' would be Vatteri Bottas who eventually finished 5th after an early race driver error that cost him a podium finish. He 'kissed' the barriers at the exit of Turn 10 a little too hard that saw him crack his wheel rim forcing him to an unscheduled pit-stop. The Finn, who started 15th and made up 5 positions in the opening lap itself, showed strong race pace as he tried to play catch up in the second half of the race.
A weekend of 'what could have been' for the resurging WilliamsF1 team after Massa got shunted by Kobayashi's Caterham at Turn 1 on the opening lap itself. A case of a 'brake-fail-by-wire' system where the Japanese driver had non-operational rear brakes! Scary!
The other resurging team (yes, Mclaren) did their search for a title-sponsor some good by clinching a double podium (Button got promoted to P3 after Ricciardo's exclusion) and leaving Australia as leaders on the Constructors' Championship table. And their arch rivals Ferrari had to contend with P4 (Alonso) and P7 (Raikkonen) in what could be described as a lacklustre race performance.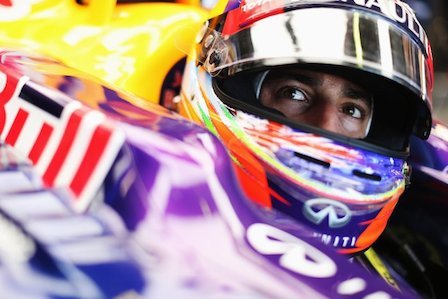 Lewis Hamilton was the first driver to clinch pole position in this new era; he was also the first driver to retire due to mechanical issues, a unique distinction I guess! He was shortly followed by defending World Champion Sebastian Vettel whose car was yet suffering from power unit issues since his software upgrade from Friday to Saturday. However, it was only Hamilton who could've challenged Rosberg for victory and possibly Button had he started higher up the order.
The other driver worthy of mention would be Sahara Force India's Nico Hulkenberg who drove well in the opening parts of the race to overtake Alonso and Hamilton and briefly run P4 till the round of pit-stops. The Indian F1 team scored a double points finish with Perez scoring the last championship point.
Ricciardo's disqualification has been appealed against by Red Bull Racing, but I think the World Champion team has their case weakened even though there have been irregularities all weekend and across teams with the FIA homologated fuel sensors. For my readers, it would be prudent to know that Red Bull Racing hadn't resorted to 'cheating' (as claimed by a few on social media) and their only mistake was that they chose to use their calculation of the fuel flow (limited to 100kg/hour) without getting FIA's prior approval.
The technical ruling which ultimately led to the exclusion is extremely interesting and crucial to the new 'formula' of Formula1 because it governs the 'efficiency' of the modern day power plants. While the engineer and F1 purist in me appreciates the use and governance of such technology, as a fan, I am not okay with the fact that it took the FIA nearly 6 hours post race to confirm the race results. Even more so after knowing that such fuel sensors are monitored in real-time! The obsession with technology is what separates Formula1 from other forms of racing, but this same obsession could well lead to a walk-away from fans who wish to see wheel-to-wheel racing and results being concluded as the chequered flag drops!
On wheel-to-wheel racing, it was heartening to see cars slide around at the exit, mid-corner and off-line, an indication that it was a mix of aero and mechanical grip that drivers were relying on, a balance that the sport has struggled to achieve with its 'formulae' in the recent past. And possibly, we could see rookies just out of GP3 / GP2 / F3.5 and the likes do better than their experienced team-mates because the similarity of the current machines to the ones they've driven in the junior formulae where the dependence on aerodynamics is far less.
And on a grid with five World Champions, two rookies and a seasoned veteran made it to the podium on the opening round of the season and if this is an indication of what lies in store, I believe that fans will slowly forget the engine grunts or lack thereof in the 2014 Formula1 Season.
Race Results (provisional) of the 2014 Australian Grand Prix:
Nico Rosberg – Mercedes
Kevin Magnussen – Mclaren
Jenson Button – Mclaren
Fernando Alonso – Ferrari
Valtteri Bottas – WilliamsF1
Nico Hulkenberg – Sahara Force India
Kimi Raikkonen – Ferrari
Jean Eric Vergne – Toro Rosso
Daniil Kvyat – Toro Rosso
Sergio Perez – Sahara Force India
Adrian Sutil – Sauber
Esteban Gutierrez – Sauber
Max Chilton – Marussia
Not Classified / Did Not Finish:
Jules Bianchi – Marussia
Romain Grosjean – Lotus
Pastor Maldonado – Lotus
Marcus Ericsson – Caterham
Sebastian Vettel – Red Bull Racing
Lewis Hamilton – Mercedes
Felipe Massa – WilliamsF1
Kamui Kobayashi – Caterham
 Disqualified:
Daniel Ricciardo – Red Bull Racing
Tune into the post-Australian Grand Prix episode of the Inside Line F1 Podcast on Tuesday where we will discuss the hits, misses and funny moments from the 2014 Australian Grand Prix.