The 2014 Australian Grand Prix delivered beyond expectations on many counts. And no, engine sounds isn't one of those. However, for now, it is time to look beyond that one single parameter. For starters, the 'show' was entertaining, exciting and classic. Rookies out-performed, Rosberg won & the FIA wrapped the defending World Champions on their knuckles in a manner most debatable. (Read: Nico Sup-berg)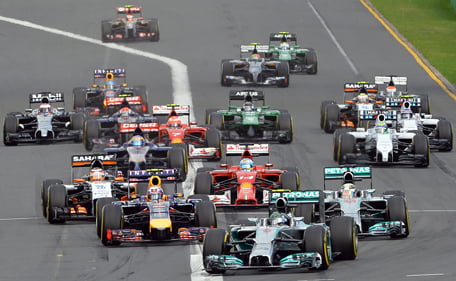 To be honest, Formula1 fans (me included!) weren't too sure about the quality of racing once we the circus would set shop in Melbourne. Would reliability play too big a factor? How many cars would finish? Will it be an engineering overdose? (Read: Racing First, Engineering Later) And will Formula1 be robbed of 'speed' along with the engine sounds?
In this week's episode of the Inside Line F1 Podcast, Rishi and I pay credit where it is due. We talk about the performers, under-performers and no-shows and of course debate on the new engine sounds that Formula1 is trying to come to terms with. Here's what is in store in our Formula1 podcast:
A BIG thank you to all the stakeholders! Did we miss anyone out? Oh yes, to our listeners too! Some great stats about the Inside Line F1 Podcast! Yay!
So what did we like the most about the Australian GP?

Mclaren back in form!
Rookies! Is there a secret to their success? We decode! (Read: F1 Cars, GP2 Speeds)
Drivers were made to work hard with the slipping and sliding!
World Champions being beaten by their team-mates.
Rosberg's year to win the 2014 Drivers' World Championship?
Pirellis holding up and the audible tyre screeches.
And of course, the cheering of the spectators.
Toro Rosso and Sahara Force India scoring double points! Yay!
Nico Hulkenberg, winner or loser?

And what did we not?

Kobayashi? Stop with the criticism!
Massa retiring, Bottas's driver error and WilliamsF1 not performing!
Ricciardo's exclusion, is this a conspiracy? Why were Red Bull Racing disqualified? We offer our view.
Between 2013 and 2014, nothing has changed for Ferrari! Does anyone know what's wrong with the 'Prancing Horse'?
The F1 Timing App and the Live Timing option on the F1.com website! What on earth!

Of course, no discussion these days end without a debate on the engine sounds. We have yet another. Can we please have them loud?
The Inside Line F1 Podcast is now available on various platforms and I would urge you to choose your platform to listen to the humour that we add to the otherwise serious and complex sport of Formula1. And while our podcast frequency is weekly, come 'like' the Inside Line F1 Podcast page on Facebook for far frequent updates on the humour in the world of Formula1.
If you are an Apple user, you can subscribe to the Inside Line F1 Podcast on the iTunes Podcast Store or via our RSS feed (for Android/Windows/Blackberry users).
The Inside Line Formula1 Podcast is produced and hosted by Rishi Kapoor and Kunal Shah. Follow us on Twitter and on our Soundcloud, Spreaker, MixCloud and YouTube channels.