In a rain drenched qualifying session, Lewis Hamilton clinched his third pole position of the 2014 Formula1 Season as the Red Bull Racing cars of Ricciardo and Vettel managed to beat Nico Rosberg, who seemed to succumb to brake related issues and in my view, his nerves. Post session, he also indicated that his lap time delta showed him to be two tenths slower when actually he was half a second quicker than his previous best. Reasons or not, I believe that Rosberg strung a lap together, he would've been closer to Hamilton, but highly doubt if he would've beaten the Brit.
After being beaten comprehensively in the 2014 Malaysian Grand Prix followed by a closely fought but lost battle in the 2014 Bahrain Grand Prix, I believe that Rosberg has been psyched by Hamilton's pace, defence and increase in confidence in a team he (Rosberg) has helped build from scratch. Possibly a visit to the sports psychologist would help. (Read: Decoding The Mindset Of Formula1 Drivers)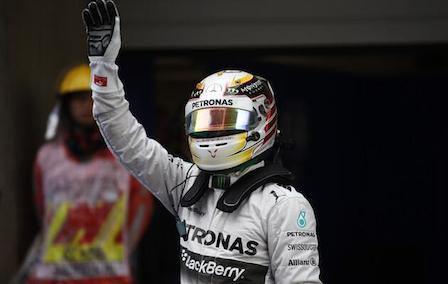 Hamilton has won a World Championship once and has been in the fight a few times and seems mentally stronger amongst the two. He knows what it takes to battle and stay at the front. Rosberg, it seems, will have to dig deep to keep calm and let his talent do the talking.
The Mclarens failed to impress, as did Raikkonen and the Ferrari fire and ice battle seems to be too fiery for the Iceman, who I believe is yet to settle down in his F14T comfortably. The Red Bull, who possibly have the best possible wings (I mean aero package), need to be lacking the boost on the Renault power unit side. (Read: Ferrari, Alonso and Raikkonen)
The rain would normally neutralise pace differential and help bunch up the grid. But Hamilton, who had a scratchy final attempt, still managed to record a lap nearly 6 tenths ahead of Ricciardo, who of course has out-qualified Vettel 3:1 yet.
On that note, the starting grid for tomorrow seems extremely interesting. Given the large pace differential between teams, team-mate battles are coming to the fore and I believe tomorrow will be another such day. Ricciardo vs. Vettel, Bottas vs. Massa, Button vs. Magnussen, Hulkenberg vs. Perez and of course Rosberg vs. Hamilton. And the weather forecasts say it'll be dry!
Finally, for all of Lotus F1 team's hard work and on off Twitter, Grosjean managed to show some pace to qualify in the top 10. Aided by the weather or not, I hope that we have yet another team in the mix for the top 10 positions. And for Maldonado, the lesser said, the better!
Qualifying Results from the 2014 Chinese Grand Prix:
Lewis Hamilton – Mercedes
Daniel Ricciardo – Red Bull Racing
Sebastian Vettel – Red Bull Racing
Nico Rosberg – Red Bull Racing
Fernando Alonso – Ferrari
Felipe Massa – WilliamsF1
Valtteri Bottas – WilliamsF1
Nico Hulkenberg – Sahara Force India
Jean Eric Vergne – Toro Rosso
Romain Grosjean – Lotus F1 Team
Kimi Raikkonen – Ferrari
Jenson Button – Mclaren
Daniil Kvyat – Toro Rosso
Adrian Sutil – Sauber
Kevin Magnussen – Mclaren
Sergio Perez – Sahara Force India
Esteban Gutierrez – Sauber
Kamui Kobayashi – Caterham
Jules Bianchi – Marussia
Marcus Ericsson – Caterham
Max Chilton – Marussia
Did Not Qualify:
After a wet qualifying, dry weather is predicted for Race Day. The is Hamilton's to lose, the question is, if he does, whose is it to win?
Hear the latest episode of the Inside Line F1 Podcast 'Against Mid-Season Rule Changes'.