RJ Rishi Kapoor always finds funny ways to open our Formula1 Podcast. This time he tries a Japanese, Chinese, err…Korean way to open the link! So while you try and figure what he's doing, below is what we discussed in our weekly podcast:
Apple = Red Bull Racing? Does it have downforce too? And double DRS?
Bored of the 2012 Japanese Grand Prix? I sincerely apologize!
Rishi does a Steve Slater and uses the word 'mano-e-mano' to explain how the rest of the 2012 Formula1 Season will be!
Here's how we think the Championships will be fought: Alonso vs Vettel; Red Bull Racing vs Mclaren – confusing?
Massa and Kobayashi's podium finishes, contract renewals to be announced soon?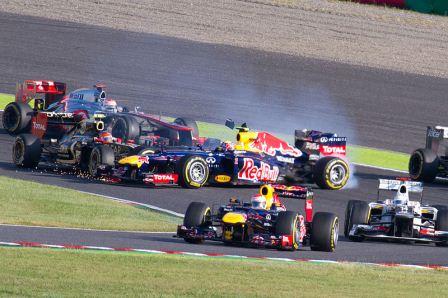 First lap 'nutcase', we talk about safety standards in Formula1. Are drivers taking it for granted?
Perez lacking temperament? Or is he over-excited about signing for Mclaren? (Read more: Can Perez Fill Hamilton's Boots In Mclaren?)
Barrichello could have delivered better results for WilliamsF1?
Karthikeyan could have shown better pace in Suzuka? Hear how and why!
And the 2012 Korean Grand Prix – a Gangnam style race to expect?
Will Ferrari enter the equation in Korea? Alonso's said this will now be a mini-championship of sorts, will he be able to fight at the front? And of course, how long before Sauber finally overtake Mercedes in the Constructors' Championship! All these questions and many more should be answered come Race Day!
And also, what do our listeners think, will the 2012 Korean Grand Prix be around for long?
If you've not already purchased your tickets for the 2012 Indian Grand Prix to enjoy F1 in India, go ahead and do so right away! Read the '2012 Indian Grand Prix Ticket Purchase Guide' and get yourself the best seats possible!
Read related blog posts: 'Stepped Noses To Go Away In 2013', 'Mclaren To Use Ferrari Power' and 'TATA Increases Investment In Karthikeyan, TATA Tea Enters Formula1 With HRT'.