The three week gap between the 2013 Canadian GP and 2013 British GP gave Rishi and me time to ponder over the recent developments in Formula1 and as always we've come up with humourous stories. We discussed the Forbes Highest Paid Athletes' List in the last episode of the Inside Line F1 Podcast 'Formula MontREAL' and in this week's episode, we discuss the list of possible brands / companies that our Formula1 drivers could endorse and why!
We love bringing the element of humour to an otherwise serious and complex sport and we are glad that our listeners support our sense of humour. Over to the podcast…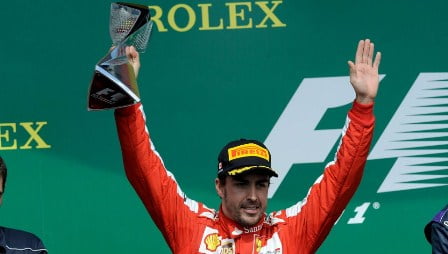 Here's what we discussed in this week's Formula1 podcast: (YouTube channel: http://youtu.be/ZcquqYiQZ44)
Potential brand endorsements for Raikkonen, Alonso, Vettel, Hamilton and even 'Crash'analdo and 'Crash'gean. Of course we've talked about Button, Webber and Massa too!
And what Schumacher should endorse!!
Should any brands take heed from this podcast and actually use an F1 driver for an endorsement(s), we will be there to claim our commission!
A BIG thank you to Pavithra yet again for coming up with some interesting suggestions for this podcast. We love to hear from our listeners, so keep sharing your views with us!
If you are an Apple user, you can subscribe to the Inside Line F1 Podcast on the iTunes Podcast Store or via our RSS feed (for Android / Windows / Blackberry users).
The Inside Line Formula1 Podcast is produced by Rishi Kapoor and Kunal Shah. Follow us on Twitter and on our Soundcloud and YouTube channels.