Nico Rosberg won the 2014 Brazilian Grand Prix, a race he absolutely needed to win to keep his championship hopes alive. But was he the quickest driver on the circuit? The timings sheets from all the sessions do say so. But popular opinions (on social media) believe otherwise, absolutely.
Everyone including Lewis Hamilton was convinced that had it not been for an unexpected spin, the lead of the race would've changed hands after the second round of pit stops. Whatever the case, the race was closely fought and most believed that Hamilton's move on Rosberg was only a matter of time. However, for Rosberg and the sport's sake, we have yet another World Championship fight that has gone down till the wire.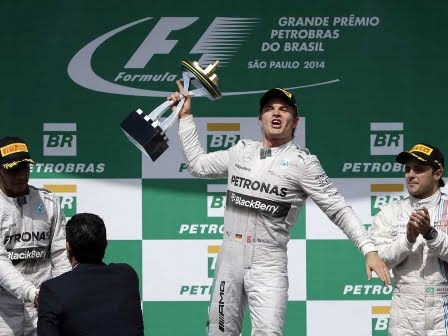 While Rosberg showed that he was 'the boss' on track, Bernie Ecclestone did exactly that off it. After admitting that the sport faced a crisis (severe?) at the 2014 United States Grand Prix and partially accepting the blame for it, he offered polar views at Interlagos. Surprised? I am not! (Read: Blame It On Bernie?)
Ecclestone, known for his ruthless ways of running the sport and negotiating with the teams, refused to offer financial support to the 'struggling' mid-field teams and instead blamed them for outspending their bank balance and living outside of their means. The sport has for long lived on 'more the money, the faster you go' motto and it is only unfair to blame the teams alone. (Read: Bernie, I Shrunk The Grid)
Formula1 can be a vicious circle. You need to 'spend' (and keep spending) to go quicker and even if you do go quicker, money isn't guaranteed beyond a point if you're a mid-field team. The guarantees are towards the bigger teams where much of their earnings aren't performance linked, so even a dream season like Sauber had in 2013 wouldn't guarantee much incremental earnings.
We've discussed and debated the crisis in our earlier podcast and believe even more so now that the sport needs to focus on where they can earn more money and distribute it better rather than try and focus on a cost control exercise. History has shown that Formula1 teams can rarely agree on a common agenda (apart from racing!) and a cost capping exercise would be a waste of time.
On that note, a move back to the V8s is being publicly supported by a few teams, but that would be an absolute waste of time, effort and money, all of which the sport can't afford at the moment. It is running out of time to reinvent itself and make it more attractive to the new age audiences and new territories it is attracting and money is always in shortage in one of the world's most richest sports. (Read: Let's Save Formula1)
And last but not the least, we wonder if Abu Dhabi would be the last race for nearly a half a dozen drivers on the grid. Sutil, Gutierrez, Kobayashi, Chilton, Vergne and maybe a Button or Magnussen? Personally, I would miss Button and Sutil on the grid if they don't manage to find a cockpit for the 2015 Formula1 Season, but that does seem highly likely. Time to now tune in to the latest episode of the Inside Line F1 Podcast.
The Inside Line F1 Podcast is now available on various platforms and I would welcome you to choose your platform to listen to the humour that we add to the otherwise serious and complex sport of Formula1. And while our podcast frequency is weekly, come 'like' the Inside Line F1 Podcast on Facebook and on Google+ for far frequent humorous updates from the world of Formula1.
If you are an Apple user, you can subscribe to the Inside Line F1 Podcast on the iTunes Podcast Store or via our RSS feed (for Android/Windows/Blackberry users).
The Inside Line Formula1 Podcast is produced and hosted by Rishi Kapoor and Kunal Shah. Follow us on Twitter and on our Soundcloud,DailyMotion, Spreaker, MixCloud and YouTube channels.