Back in routine, back to our weekly Formula1 podcast 'The Inside Line', Rishi and I discuss the first pre-season test that was held in Jerez last week. We discuss what we learned! And of course, we discussed how many cars caught fire!
Testing isn't always boring as I have already explained in an earlier post 'The Fun Part of Formula1 Testing' and podcast on the testing rules in Formula1. (Tyre War, Testing and Chevrolet)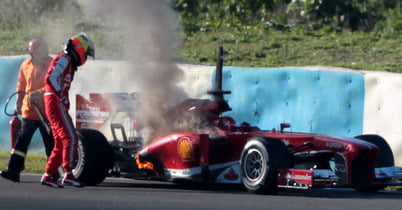 And to add to our testing talk, we also bring back Luca Montezemolo's favourite topic – 3 car Formula1 teams! Rishi and I go about picking our 'third' racing driver for each team (origin of idea by our avid listener, Latesh!). Hear the podcast to see if your view matches ours! (YouTube followers: http://youtu.be/dGMIrgJ5dHc)
First pre-season test in Jerez. What did we learn?
11 teams, 33 cars and 33 drivers! We all know the 22 (or 21) names racing in the 2013 Formula1 Season. Hear the other 11 names we've nominated!

If you missed our earlier podcast, come hear 'Happy New Season'.
Also, I am in BIG favour of three car teams in Formula1. Read my views here: Three Cars Teams In Formula1 And Why I Am In Favour.