My views on the team orders saga involving Lewis Hamilton, Nico Rosberg and Mercedes in the 2014 Hungarian Grand Prix created much hullabaloo on social media! So much so that I almost ended up getting trolled, so in this week's episode of the Inside Line F1 Podcast, I offered to clarify my views further. Funnily enough, I am not much of a Hamilton or Rosberg fan yet or Mercedes too for that matter. (Read: Hung(a)ry For More)
But I guess this is what happens when an underdog takes on one of Formula1's mightiest talents. And the underdog status doesn't limit itself to the sport alone. On Facebook, Rosberg's fan count is 1/4th as compared to Hamilton's, with the number improving to 1/3rd on Twitter for Rosberg! (Read: 2014 F1 Season: Has The Dust Settled Yet?)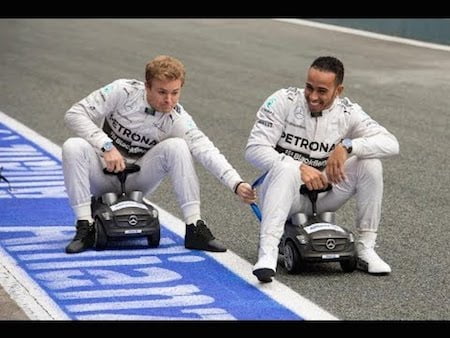 Read:
Before I proceed, a BIG thanks to Ajit Devadason for letting me use this title for the podcast. He runs www.effwon.com (which hosts its own fantasy league) and manages Soft Tyres on Facebook. The team orders saga has also resulted in some great banter on Facebook across various groups that allow me to promote my work and this includes 'Die Hard F1 Fan', 'Addicted To Formula One', 'Formula One Forever', 'Worldwide F1 Fans' and 'F1 Extra'!! All these groups as a must follow if you're a Formula1 fan and are on Facebook, I mean who isn't?
Back to the podcast, we try and re-live the 2014 Hungarian Grand Prix, which was truly 'edge of the seat' action for everyone. In a season marred by multiple and frequent rule changes, it is heartening to know that the core of the sport which includes wheel to wheel action, strategy and unpredictability still remain intact and untouched. Yes, you may still miss the engine sounds, but that discussion is long gone. Is Formula1 still lacking? We try and answer that in our next episode, do tune in. (Read: Has Formula1 Given Formula E A Chance?)
Read:
Here's what is in store in this week's episode of our Formula1 Podcast:
Firstly, a welcome back to Rishi, who had a back surgery, and no, not the Kimi type!
Mercedes proved that they prefer a blonde on top. Really?
We offer our views on the team orders saga AND prove who actually was wrong! (Read: Fans Denied A Hamilton vs. Rosberg Fight)
'Racer of the Day', we pick our candidates. Toughest race yet to choose
Mclaren should watch the races on television; we tell you why (Read: Ditched By Star Sport, F1 Fans Will Thank TATA)
Sauber create history, not most worthy of a mention though
Flavio to improve the show? That'll be Formula1's most expensive plan then!
Plethora of new racing venues being announced for 2015 and 2016. Where does this leave the Indian Grand Prix? (Read: Ecclestone Checkmates The Indian GP)
Can Mr. E take the sport to North Korea, please?
Ferrari should stop paying Raikkonen his race fees too
Never thought we'd say this, but Ferrari risk losing Alonso if they finish lower than third (Read: Alonso, Raikkonen, Ferrari, 2014 And Beyond)
Thanks to Maldonado, Lotus can afford Mercedes power and much more in the 2015 Formula1 Season
The sport takes a compulsory break for the next three weeks, however, Rishi and I will be working overtime to bring to you special stories and views during this period. And of course, what better time than now to bring back our special series of Know Thy Racer. Stay tuned!
The Inside Line F1 Podcast is now available on various platforms and I would urge you to choose your platform to listen to the humour that we add to the otherwise serious and complex sport of Formula1. And while our podcast frequency is weekly, come 'like' the Inside Line F1 Podcast onFacebook and on Google+ for far frequent updates on the humour in the world of Formula1.
If you are an Apple user, you can subscribe to the Inside Line F1 Podcast on the iTunes Podcast Store or via our RSS feed (for Android/Windows/Blackberry users).
The Inside Line Formula1 Podcast is produced and hosted by Rishi Kapoor and Kunal Shah. Follow us on Twitter and on our Soundcloud, Spreaker, MixCloud and YouTube channels.