I speculated in my earlier post that Narain Karthikeyan could be on his way to WilliamsF1 in the 2013 Formula1 Season. While that seems like a distant dream for Karthikeyan and the Indian Formula1 fans, the one speculation that did come true earlier today was of Hamilton joining Mercedes!
Now RJ Rishi Kapoor and I had already discussed this possibility in our Formula1 podcast last week. 'Hamilton to Mercedes, Schumacher to retire' and this did go on to be one of our most heard podcasts since a while. There are a few things that today's announcement indicates. Firstly, after weeks of silence, followed by speculation, the silly season in Formula1 has finally begun.
Secondly, Hamilton to Mercedes isn't the only change that the world of Formula1 will see next year. Mclaren announced Sauber's current driver and Ferrari's junior driver, Sergio Perez, as his replacement for next year. And most disappointingly so, this move means that Schumacher could well be on his way out from the sport – his second retirement!
Too many things to digest and write about, so here it is piece by piece! Hamilton's move to Mercedes is one of the biggest moves in the driver market since Schumacher announced his comeback in 2010. The driver market was stagnant as top teams went unchanged with their driver line-ups for the last few seasons. The only addition was that of Kimi Raikkonen in Lotus this year.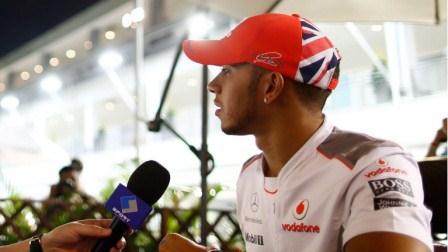 Hamilton's move also means that the five World Champions (since we don't know where Schumacher will go) will now drive for the top five teams in the sport. While there has been a strong commercial angle to Hamilton's surprise move, from a pure sporting perspective, it does seem that the Briton believes that Mercedes AMG is a better long-term prospect. The quotes from Brawn and Hamilton have echoed similar views and people are already drawing similarities between the Hamilton – Mercedes move to the Schumacher – Ferrari move in 1996. While Hamilton and Mercedes have reasons to be optimistic, the reality is also that Hamilton has left one of Formula1's most successful teams for a team that has managed to win only one race in the last three years.
The Mercedes team is led by Ross Brawn and has an illustrious technical team, but in my view to move to a manufacturer team anticipating that the new 2014 engine regulations will aid them better is looking too much into the future. Schumacher is one of the best known drivers to build a championship winning team and if he was unable to do so with his three years with the team and with his best mate Brawn, the going for Hamilton is surely expected to be tougher.
I have always believed that post Ron Dennis' promotion as Mclaren's Chairman and subsequent lack of time spent with the team at the races, Hamilton has missed the 'mentor' that he always was. Possibly this was also one of the reasons for his performance lull last season. With Brawn in the frame at Mercedes, Hamilton's need for a 'mentor' could be fulfilled. However, only time will tell if Hamilton's decision was a good one from a sporting perspective!
Commercially, this is a great decision for the driver already. Apart from the rumoured $100 million for three years, Hamilton will be the global face for the world's most well-known (aren't they?) luxury and sports car manufacturers. And of course, who wouldn't want to be a replacement to the legendary Michael Schumacher?
Also for the parent brand Mercedes, they are out to reduce the average age of their buyer and getting Hamilton on board will possibly help the brand achieve this as well. Indian Formula1 fans would have noticed Mercedes Benz in India progress on a similar route by signing young achievers in Bollywood, Fashion and Sport to portray the same. And from a sporting perspective, purely down to age, Hamilton is a better long-term bet than Schumacher!
The sport (Ecclestone!) too benefits with a refreshed driver line-up hopefully adding more eye balls next year!
(Interesting tweet by @beeayeanoowhy: Did Hamilton leave Mclaren to evade sponsorship commitments that required him to drive on Indian roads?)
Hamilton moving to Mercedes, means that Schumacher is out! I had a feeling that he would possibly renew for two seasons, but I always mentioned that like his first retirement, the second too might not be his decision entirely. As @yohannsetna put it on Twitter, this was the second time he was booted out by an incoming Mclaren missile!
Where does Schumacher go next? Interestingly, he avoided the word 'retire' in his quote and this could mean that he is possibly seeking seat options elsewhere. Rumours have indicated Sauber and Williams as possible options, while that won't be confirmed just yet, Ferrari and Mclaren are surely ruled out. I would expect him to accept a management role that Mercedes would have already offered to him!
Schumacher's second stint in the sport hasn't gone exactly as planned, however, in the 2012 Formula1 season, barring Rosberg's victory in China, he has finished ahead when both of them have finished races. But Schumacher fans should be least worried. His legendary status in the sport and his achievements will still remain the ones to beat!
And now to Perez! His performance this season has been great and I am sure Mclaren aren't just signing him for his three podium finishes. A good promotion for the young Mexican and hopefully he will get to learn alongside Button. Perez's move to Mclaren also gives the team access to new sponsors and funding from the Mexican companies. With Vodafone indicating to exit from the title sponsorship, could Telmex be their replacement? This will be an interesting space to watch as Mclaren is known to be one of the most commercially sound teams in the Formula1 Paddock.
Perez's move could of course be a bit of a financial shock for Sauber, who could stand to lose the funds that the young Mexican would bring. It would be interesting to see who the Swiss team announces as Perez's replacement for next year. Would it be an experienced driver like Schumacher or yet another rookie pay driver?
Also, the bigger shock in the Perez signing is that he is a member of the Ferrari Driver Academy. I too am surprised that Ferrari let him go to their arch rivals and not see him as a replacement for Massa. And interesting also that Mclaren chose a driver from the Ferrari program, than the Mercedes Benz one which they have been co-owners of. (Sahara Force India driver Paul Di Resta is one of the other drivers from the Mercedes Benz program). Is this to prove that Mclaren can exist without any support from the German manufacturer? Their ownership issues do end this season, however, the engine partnership does extend till 2015.
Fans would surely wish to know more about the announcements, but in the hush-hush world of Formula1, there is only this much that would be revealed. Unless of course Schumacher releases a tell-all biography!