It isn't often that the Inside Line F1 Podcast gets to speak to and host a Formula1 driver! Infact, this is our very first, much like this is Nico Rosberg's debut on our Formula1 podcast. And on the matter of firsts, we are still running our first ever official merchandise competition, courtesy Puma. If you think you are witty enough to win, participate here: Win Official Mercedes AMG Petronas Merchandise On The Inside Line F1 Podcast.
We've celebrated Sebastian Vettel's victories enough (Read: Helmets Off To Vettel) and like we said earlier, Apple even dedicated the iPhone5S to his fourth consecutive World Championship win (Read: iPhone5S-ebastian) before Indian Formula1 fans rechristened Sebastian Vettel to Lord Vitthal! And here of course is wishing that 'Sebastian Vettel wins the 2013 Constructors' Championship' as well.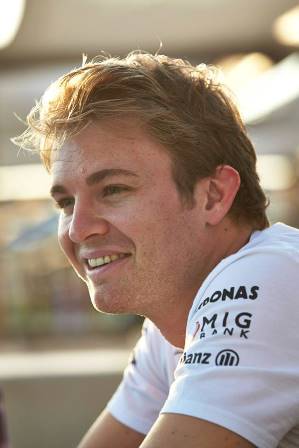 However, in this episode, we leave aside Vettel and bring focus to Nico Rosberg, whose double podium finishes in India and Abu Dhabi are still being celebrated and Kimi Raikkonen who has decided to 'skip' the last two races of the 2013 Formula1 Season due to 'medical' reasons. Yes, Formula1 is a world where even medicine equals money (medicine = money).
And then of course, WilliamsF1 threw a lifeline to Felipe Massa and booted out PDVSA's multi-million dollar sponsor and a driver called Pastor Maldonado. So where does this leave the driver market? Who goes where? All this and more in our latest episode! Tune in!
Quick references: (YouTube link: http://youtu.be/dWlzN_WIxzc)
We've cribbed about Pirelli enough, even about the simulated sound of the V6 engines that will be used in the 2014 Formula1 Season. Ever wondered a Formula1 driver's views on these crucial topics?
And we are a Cricket and Bollywood crazy nation and Sahara Force India's #masterblaster and Ra-One associations have proved earlier how Cricket, Bollywood and Formula1 can come together (Gulshan Grover included!). But here's what Nico Rosberg had to say about Sachin Tendulkar and his retirement and of course his imitation of Bollywood's original 'angry young man'. (No, we don't mean Sunny Deol)
Raikkonen succumbs to a 'bad' back and Formula1's world of PR and team talk. Last we checked, Vettel and Webber were involved in something similar. (Read: Multi21, Team Orders and PR Talk)
Massa to WilliamsF1, Maldonado to Venezuela? Or will Lotus take the PDVSA millions and Quantum's money too? Where does this leave Hulkenberg? (Read: Formula1 Drivers Play Musical Chairs)
And last but not the least, the rumour on Perez. Is he another Kovalainen in the making?
The Inside Line F1 Podcast is now available on various platforms and I would urge you to choose your platform to listen to the humour that we add to the otherwise serious and complex sport of Formula1.
If you are an Apple user, you can subscribe to the Inside Line F1 Podcast on the iTunes Podcast Store or via our RSS feed (for Android/Windows /Blackberry users).
The Inside Line Formula1 Podcast is produced and hosted by Rishi Kapoor and Kunal Shah. Follow us on Twitter and on our Soundcloud, MixCloud and YouTube channels.