Every race counts, especially when six rounds remain in the 2012 Formula1 Season. The 2012 Japanese Grand Prix offered a unique twist in the title fight and could possibly shape the future careers of Felipe Massa and Kamui Kobayashi!
Sebastian Vettel achieved a 'Grand Chelem' for the second time in his career. He qualified on pole, started from P1, led every lap of the race and also secured the 'fastest lap of the race'. A very dominant weekend for him and Red Bull Racing! Also, this was the first time this season we had a driver score back-to-back race wins!
Here's a quick read on how the race unfolded for me:
Vettel's win was expected after the pace he showed in qualifying. This was his 24th Formula1 victory and this was after he secured his 34th pole position yesterday. (Read more: 2012 Japanese Grand Prix Qualifying: Vettel On Pole As Hamilton And Alonso Falter)
While victory is always sweet, the result of this race would probably be far sweeter than any of the other wins this season. Reason? Alonso crashed out on the first lap first corner of the race! Vettel is now just 4 points behind Alonso in the Drivers' Championship. He arrived in Japan with a 29 point deficit!
Alonso, who could only qualify 7th yesterday, would have arrived on the starting grid with 'damage limitation' in mind. However, a gentle tap from Raikkonen at the entry of turn 1 on the first lap resulted in a puncture that led him into a spin and into retirement! Yes, sport can be cruel.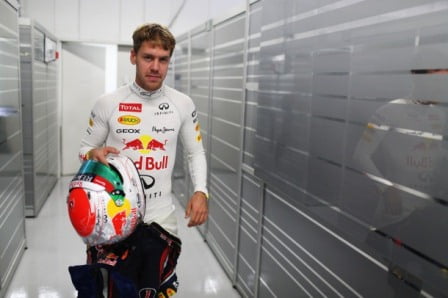 This was the Alonso's second DNF this season and both times it has been caused by a Lotus! And for all those Alonso fans, this was a racing incident. Period!
Alonso's team-mate Massa drove a brilliant race to avoid the first corner melee and finish 2nd behind Vettel. This was Massa's first podium of the season and his last podium finish can be traced back to the 2010 Korean Grand Prix! Will Massa's improved pace help him secure his Ferrari contract for the 2013 Formula1 Season?
The final podium finisher was local hero Kamui Kobayashi who drove a wonderful race as well. This was his maiden podium finish and no better circuit than Suzuka to score it! He was under pressure from Button in the closing stages but defended his position well. His podium added 15 points to Sauber's Constructors' Championship tally. A safe cushion over Sahara Force India?
Before moving on to the other performances, a few words on the first corner incidents that were triggered. I think Alonso did well to ensure that his car doesn't steer onto the racing line. But it was Grosjean once again who created trouble by ramming and spinning off Mark Webber. Senna bumped off Rosberg as a result of this drama. Grosjean was awarded a 10-second stop-go penalty, while Senna got a drive-through.
Moreover from the penalty, it doesn't seem that Grosjean has learned much from his one-race suspension last month. Most drivers and Team Principals expressed their discontent post-race. While Lotus will back him yet again, does this hamper his future prospects with other teams? Food for thought!
Webber, who had to pit for inspection and resumed at the back of the field drove a good race to finish 9th.
Hamilton and Raikkonen who offered excitement after their first round of pit-stops finished 5th and 6th. Also, Raikkonen is the only driver this season to have completed all racing laps yet!
Hulkenberg benefitted from the first corner incidents and finished 7th for Sahara Force India. He held off a charging Maldonado in the closing stages of the race.
The other Sahara Force India driver had clutch issues on the formation lap that affected his race start. He eventually finished 12th.
Toro Rosso's Ricciardo fended off Schumacher for 10th place and scored the final championship point.
For the bottom grid teams, Marussia's Glock finished only 8.5 seconds behind the Caterham of Kovalainen. This battle is only getting more interesting!
And for Indian Formula1 fans, Karthikeyan had to retire his HRT F112 for precautionary reasons. (Read more: Has TATA Made The Wrong Decision With HRT?)
Raikkonen's 100% finish reliability and consistency sees him 3rd in the Championship with 157 points. Hamilton is close in 4th place with 152 points, followed by Webber (134) and Button (131). While Raikkonen and Hamilton have a mathematical chance of winning the title, I believe that this has now turned into an Alonso vs Vettel battle.
What will make the title fight even more interesting is that it is not every race weekend that these two drivers have the fastest car. Mclaren's pace has been strong and has won 3 out of the last 5 races and almost won in Singapore as well. They will have an interesting role to play too!
On the Constructors' front, Sauber are only 20 points behind Mercedes. Given their form (and Mercedes' lack of it!) can they cause an upset by the end of the season? And also, Sahara Force India seem on their way to score a century of points – another first for the team!
And Kobayashi's podium at home was much celebrated by the Japanese fans. Can Sahara Force India get onto the podium for the 2012 Indian Grand Prix?
If you've not already purchased your tickets for the 2012 Indian Grand Prix to enjoy F1 in India, go ahead and do so right away! Read the '2012 Indian Grand Prix Ticket Purchase Guide' and get yourself the best seats possible!
Read related blog posts: 'Stepped Noses To Go Away In 2013', 'Mclaren To Use Ferrari Power' and 'TATA Increases Investment In Karthikeyan, TATA Tea Enters Formula1 With HRT'.