I caught up with a dejected RJ Rishi Kapoor last night and recorded our 2012 Spanish Grand Prix podcast. While I was rejoicing a Williams win, Rishi was dejected that a Williams brought about Schumacher's retirement!
A quick look on what we discussed in our podcast:
Maldonado's first ever Formula1 victory! Were we expecting it, ever? Were you expecting it, ever? This is the special feature on the podcast where I make an honest confession.
Maldonado – Alonso and their on-track battle, we speak about the start and his defense towards the end!
And we spoke about Alonso's improved pace in his 'Ferr-auber' (Rishi claims he overheard a conversation between Sauber and the Italian mafia)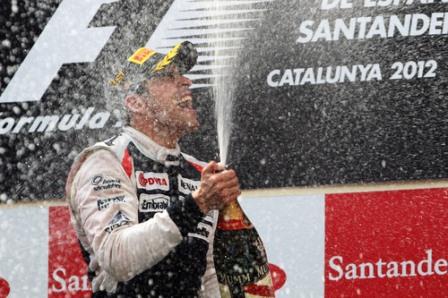 Vettel and Massa's penalty – do you know why were they penalized? We are still puzzled!
A Schumacher – Senna clash makes headlines after nearly two decades! Hear our view on their clash!
Lotus going too conservative on their tyre strategy? We possibly missed an Alonso vs Raikkonen battle in Barcelona
Mclaren's pit errors continue; we believe that they're just jinxed! Brain fade? I think so!
Is this turning out to be a 'tyres' championship more than a 'drivers' championship?
Click to hear our 2012 Formula1 Podcast
'Expect the unexpected' as Christian Horner rightly said, that is what will exactly be at the 2012 Monaco Grand Prix. Until next week…!
If you're an Indian Formula1 fan, do read 2012 Indian Grand Prix Tickets Go On Sale and go buy your ticket for the Indian Grand Prix!