After an exciting qualifying session yesterday (Read: 2012 Korean Grand Prix Qualifying Report), the 2012 Korean Grand Prix turned out to be quite a snore-fest! The result of the race did have an effect on the World Championship, however, I am sure that it did turn many fans away from their TV sets as well.
Also, the most over-rated and over-used term this GP weekend has been the 'Gangnam Style'. Psy was the guest of honour to wave the chequered flag at the end and I just wish he showed some passion while waving the flag! Asking for too much, am I?
Sebastian Vettel clinched the lead at the start of the race and won an uneventful race in the end. This was Vettel's 25th career win, 3rd consecutive victory of the 2012 Formula1 season and also his 2nd consecutive win in Korea. Had it not been for a retirement in 2010, he would hold a 100% record at the Yeongam circuit.
This is the first time this season that Vettel has clinched the lead in the Drivers' Championship. He is now 6 points ahead of title rival Alonso who could only manage 3rd place.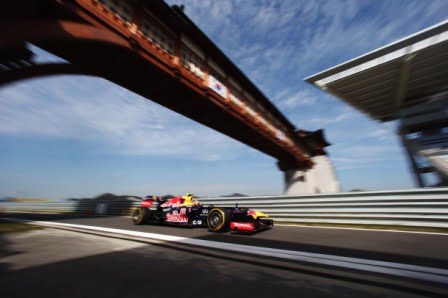 And given the competitive nature of racing this season, Red Bull Racing's 1-2 in Korea was the first for any team this year. Some interesting statistics as the season now nears to a close!
The opening lap was most interesting with Webber letting Vettel through and then holding up Alonso and a charging Hamilton. The only incident on the first lap was when Kobayashi outbraked himself and knocked out Button and Rosberg in the process. While he was punished with a drive through penalty, Kobayashi retired soon too. Clumsy driving by the Japanese who scored his maiden podium only last weekend in the 2012 Japanese Grand Prix (Read: Drivers Taking Safety For Granted In Formula1)
Massa was surprisingly quicker than Alonso and not so surprisingly Ferrari asked him to keep safe distance. Some much needed resurrection for the Brazilian?
The star driver of the race for me would be Sahara Force India's Nico Hulkenberg. He started from P8, kept out of trouble and in touch with the lead group. He managed to keep Grosjean behind him until his 2nd pitstop where I think the team should have pitted him a lap earlier. However, it was his double overtaking move on a struggling Hamilton and Grosjean that rewarded him with P6. Good 8 points in the bag for the Indian Formula1 team as they now approach their home race with the 2012 Indian Grand Prix.
The Toro Rosso drivers too showed some pace and scored a double points finish ahead of a rear suspension problem ridden Hamilton whose championship challenge too seems to be over!
Paul Di Resta and Schumacher finished P12 and P13 behind Perez in P11. A race where Sauber failed to score a single point.
Petrov out-qualified Kovalainen yesterday and managed to finish about 11 seconds ahead in the race too. Will he be racing in Caterham next year too?
Karthikeyan was the sole flag bearer for HRT as Pedro de la Rosa retired due to a DRS wing error and on safety grounds. However, he was two laps down on the leaders and 80 seconds behind the Marussia of Pic. I will certainly bet on a stellar drive by the Indian at the Indian GP!
While the Drivers' Championship saw Vettel move ahead, Mclaren lost ground to Ferrari in the Constructors' Championship. The British team is now 3rd, 6 points behind Ferrari. This too will be a battle down to the wire!
And while safe driving is a discussion that has been all season long, safe circuit standards too need to be addressed. I was surprised to see astroturf tearing apart at the exit of the kerbs. As luck would have it, Hamilton was the one who picked up a large piece on his bargeboard and had a wobbly car till the end.
Not the most exciting or entertaining races off late but now the focus shifts to the 2012 Indian Grand Prix. Are you going there too?
***
If you've not already purchased your tickets for the 2012 Indian Grand Prix to enjoy F1 in India, go ahead and do so right away! Read the '2012 Indian Grand Prix Ticket Purchase Guide' and get yourself the best seats possible!
Read latest posts on my Formula1 blog on Narain Karthikeyan, Indian Grand Prix and my Formula1 Podcasts recorded with RJ Rishi Kapoor.
Also read the most read posts on my blog:
1. Narain Karthikeyan To Drive For WilliamsF1 In 2013
2. TATA Increases Investment In Karthikeyan, TATA Tea To Enter Formula1 With HRT
3. Hamilton To Mercedes, Schumacher To Retire
4. Airtel Partners Mercedes AMG Petronas For The 2012 Indian Grand Prix
5. Has TATA Made The Wrong Decision With HRT?