Happy New Year! And a 'Happy New Season'! We stick to our tradition of hosting our Formula1 Podcast Awards in 2015 as well. And trust me, it is one helluva tough job. And I am not sure what's tougher, compiling the categories, contenders and winners, or not laughing while we are presenting them!
We've wrapped up a super 2014 Formula1 Season with 'Chequered Flag For 2015' and I am delighted that we crossed a little more than 50,000 listens in 2014, our highest ever. And it wouldn't have been possible without your support (Pavithra and Latesh even more so!) and of course, listens. A special mention and thank you to Graham of www.talkingaboutf1.com for hosting our podcasts on his website. And a big thanks to all our social media partners who have shared our posts and podcasts alike – 'Die Hard F1 Fan', 'Formula One Forever', 'Addicted To Formula1', 'Formula 1 Fans Worldwide', '#F1Extra' and 'Motoroctane'.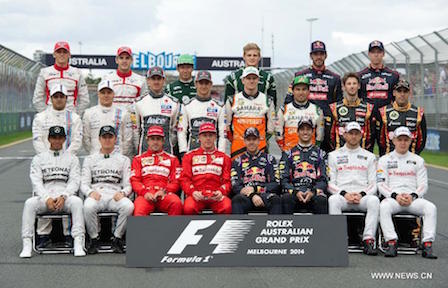 In our latest episode of the Inside Line F1 Podcast, we present the 2015 Inside Line F1 Podcast Awards, an awards function that we absolutely enjoyed hosting and hope that you enjoy listening. And while we wait for the day when we host these in real with attendance from our listeners and a few Formula1 drivers, here are the categories for this year's awards:
Change Of The Year Award
Beard Of The Year Award
Physically Present, Mentally Absent Of The Year Award
Worst Kept Secret Of The Year Award
Most Desperate Move Of The Year Award
Shame On You Award
Luckiest Driver Of The Year Award
Finger Of The Year Award
Unlucky Charm Of The Year Award
Bravery Award
PDA Of The Year Award
Radio Message Of The Year Award
Joke Of The Year Award
Race Of The Year Award
Fan Of The Year Award
And while we too await the 2015 Formula1 Season, here's a look back at some of our most listened podcasts from 2014:
The Inside Line F1 Podcast is now available on various platforms and I would welcome you to choose your platform to listen to the humour that we add to the otherwise serious and complex sport of Formula1. And while our podcast frequency is weekly, come 'like' the Inside Line F1 Podcast on Facebook and on Google+ for far frequent humorous updates from the world of Formula1.
If you are an Apple user, you can subscribe to the Inside Line F1 Podcast on the iTunes Podcast Store or via our RSS feed (for Android/Windows/Blackberry users).
The Inside Line Formula1 Podcast is produced and hosted by Rishi Kapoor and Kunal Shah. Follow us on Twitter and on our Soundcloud, DailyMotion, Spreaker, MixCloud and YouTube channels.