Donald Trump should attend the 2017 United States Grand Prix. After all, his friend Vladimir Putin attends the Russian Grand Prix. Should Trump not attend, we could blame it on the absence of their possible common friend Bernie Ecclestone!
IF Trump Tweeted On Formula 1
In this week's episode of the Inside Line F1 Podcast, we wonder what Trump would tweet about Formula 1. Would he call out the truth by tweeting 'fake overtaking'? Or would he use the absence of an American driver in Formula 1 for his next presidential campaign? 'Make Formula 1 Great Again', let's get an American driver in Formula 1. Well, would he tweet about how America has built a great circuit for migrant racers to go racing on? And what would his view be about Mexican Sergio Perez racing in America? Tune in to enjoy our content!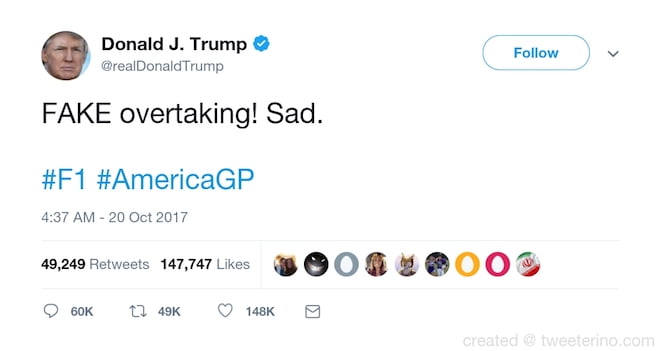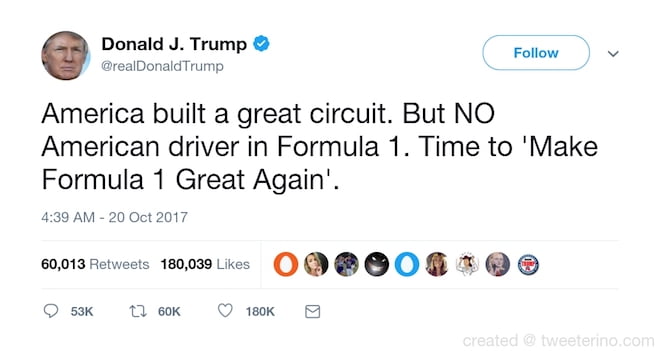 Whether Donald Trump attends or not, Lewis Hamilton will remind us of the President come Race Day. He expressed his desire to 'kneel' many races ago and I can't understand why a British citizen would bother much about America's political landscape. Is Hamilton thinking of the 'kneel' because it has become a sporting fad in America?

Fernando Alonso – 2017 Formula 1 World Champion?
As the 2017 Drivers' Championship draws to a close, I read an interesting question on social media – Could Fernando Alonso have won this year's championship with Ferrari? Interesting question with an even more interesting hypothesis! There's less of a chance that Alonso would've made the mistakes Vettel made in Baku and Singapore, but then again, I am sure this question will make for such interesting discussion in the off-season.
United States Grand Prix – Setting A New Benchmark?
The United States Grand Prix could become a model for future race organisers to follow given the ramp up in the 'sportainment' quotient. Usain Bolt, Michael Buffer and the numerous other music performances surely add to the local interest. I would say that this could be a perfect example of 'local customization of a global product'. In this episode, I try and mimic Buffer's introduction of Lewis Hamilton!
Usain Bolt should use #FasterThanHonda for his social media updates!

Car To Car Radio
Formula 1 will use biometric gloves to gather real time data from a driver during a crash. It is great to see the boundaries of technology being pushed to the absolute limit in every possible aspect of the sport. But can we also introduce 'car-to-car' radio please?
Had we car-to-car radio, maybe Vettel would've behaved himself on track in Baku and just rattled out expletives to Hamilton on radio. Fernando Alonso would've had an earful or more from Vettel and Verstappen in the last two races. Maybe Kevin Magnussen too!
Welcome to Formula 1, Brendon
Brendon Hartley's BIG Formula 1 dream will come true in the 'Land of Dreams' this Sunday. There's a link between Hartley's debut and Porsche's future interest in the sport. In similar vein, Aston Martin have hired a former Ferrari engine engineer (yes, that!) to work on their Formula 1 project. Going purely by form factor of the last few seasons, Aston Martin should've hired a Mercedes engine engineer!
However, it is interesting to note that two of the most discussed replacements for Pierre Gasly in Toro Rosso were discarded Red Bull Racing junior drivers. Sebastian Buemi is who we had our money on.
The Irony Of RoboRace
Lastly, Lucas Di Grassi was appointed CEO of RoboRace, a series that will have autonomous racing cars – basically cars raced by robots! I wonder if the robots will take offence to a human being appointed CEO for their series.
Co-hosted by Mithila Mehta and Kunal Shah, the Inside Line F1 Podcast is a weekly show on Formula 1 that attempts to simplify the sport and business of Formula 1. This show also aims to add some much needed humour to the otherwise serious sport of Formula 1. In 2016, the show crossed 150,000 listens and was top-rated on iTunes and Audio Boom. The show is available on Kunal's F1 Blog and partner websites such as Motorsport, Firstpost, NDTVAuto, Sport360, Sportskeeda, Scroll, Talking About F1, Motor Octane and others.