For all arm-chair Christian Horners out there and for those who have time and again mouthed expletives to Stefano Domenicali, now is your chance to prove your worth as a Team Owner in Formula1. Yes, after losing HRT at the end of the 2012 Formula1 Season, the FIA has now floated a tender inviting potential buyers for a 12th Formula1 team from the 2015/16 seasons.
If you could, should you actually bid? On this week's episode of the Inside Line F1 Podcast, Rishi and I try and answer exactly that; the trials and tribulations one will need to endure before you get to decide who will be your number 2 driver or before you decide which driver will pit when and for which tyre compound; yes, basically the hard work before the fun starts!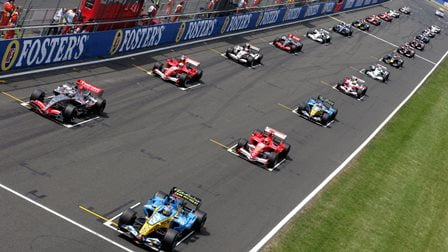 And like always, we ask a crucial question in this Formula1 Podcast: why would you buy a team in Formula1? Share your answers.
Here's what else is in store for you:
Privateers vs. Manufacturers; we talk about teams and their DNAs
Baby Schumi to have a baby…! And we try to do predict how Vettel's baby will behave.
The FIA announces a 'pole position' trophy. Namesake or Vettel-sake in this context?
Points for pole position and fastest lap of the race, why can't we bring a system used widely in junior formulae? We tell you which.
To beat that all, double points for the 2014 Abu Dumb-y Grand Prix? Ugh! (Read: Fed Up Of Rule Changes In Formula1)
If the FIA did want to 'spice' things up, we discuss what they could've actually done or still can do.
Grosjean's working with a sports psychologist has raised a few eyebrows. I share my views on why mental training is as important as physical training. (Read: The Mind Map Of A Formula1 Driver)
A round up of the driver movements from the last week; glad to hear about Adrian Sutil!
And could Jenson Button host the episode of the Inside Line F1 Podcast from the first test of the 2014 Formula1 Season? We leave you guessing!
Hear our previous podcasts:
The Inside Line F1 Podcast is now available on various platforms and I would urge you to choose your platform to listen to the humour that we add to the otherwise serious and complex sport of Formula1.
If you are an Apple user, you can subscribe to the Inside Line F1 Podcast on the iTunes Podcast Store or via our RSS feed (for Android/Windows /Blackberry users).
The Inside Line Formula1 Podcast is produced and hosted by Rishi Kapoor and Kunal Shah. Follow us on Twitter and on our Soundcloud, Spreaker, MixCloud and YouTube channels.